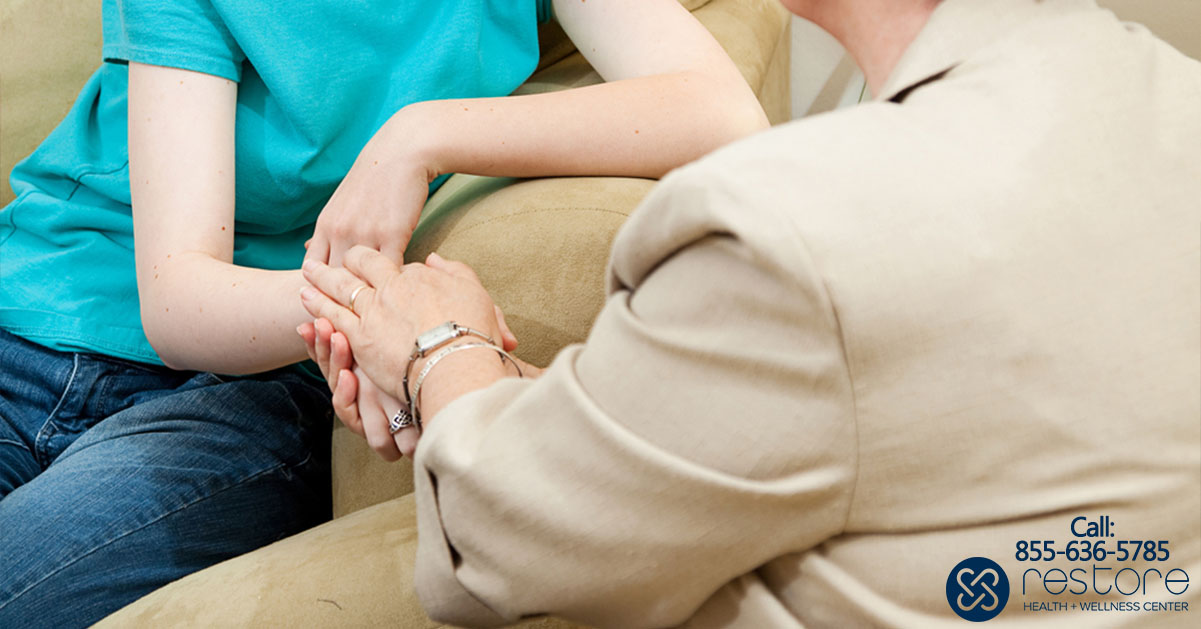 In addition to medication, psychotherapy is one of the most important therapeutic tools used by professionals to treat addiction. However, not all psychotherapeutic methods are the same; therapists use a variety of techniques in order to help an individual change for the better. Specifically, many of these methods focus on getting an individual to make small, but significant changes to their thought processes and behaviors over time.
The Most Common Types of Therapy for Addiction Treatment
Cognitive-behavioral therapy

Contingency management

Motivational enhancement therapy

Trauma-Focused CBT

Dialectical Behavioral Therapy
Cognitive-behavioral therapy (CBT) is one of the most common kinds of therapy for both addiction and other kinds of disorders, such as anxiety and depression. Cognitive-behavioral therapy was first tested to help prevent relapses in alcoholics. Later, CBT was used to help reduce and prevent relapses in recovering cocaine addictions. CBT focuses on the development of personal coping strategies in order to help a patient deal with their stressors in a healthy way.
Specifically, CBT focuses on how patients deal with unhelpful thoughts, in particular, getting patients to recognize and understand the thinking processes that drive their addictive behaviors.  
Cognitive-behavioral therapy may also focus on self-monitoring to recognize cravings early, as well as identifying and preventing future situations that could potentially put a patient at high risk for a relapse.
How Therapists Use Contingency Management to Reward Patients for Sobriety
Contingency management, often called motivational incentives, is a kind of therapy that uses tangible rewards to encourage or motivate patients to achieve desired goals, such as passing a drug test. One kind of contingency management program, voucher-based reinforcement (VBR), gives patients in recovery vouchers that can be exchanged for rewards on the condition of passing a drug test. These rewards often include:
Food

Non-alcoholic beverages

Film tickets

Other non-monetary, non-drug items
As a patient accrues more passed drug tests, the value of the vouchers increases. However, the value resets if a patient gets a positive, helping encourage patients to stay drug-free. Contingency management has been found to be very effective when combined with other community-based therapies as part of an integrated drug treatment program.
Motivational Enhancement Therapy Helps Patients Make Rapid, Self-Motivated Changes
Motivational enhancement therapy focuses on helping individuals resolve their ambivalence about getting treatment and getting sober. The goal of this kind of treatment is to create a rapid internal motivation to change from within the patient, instead of having a therapist guide them step-by-step through a long period of recovery.
The stages of motivational enhancement therapy usually include:
Initial assessment battery

that can determine a patient's wants, needs, and problems

Initial appointment

in which a therapist provides feedback from the initial assessment discusses the patient's substance abuse, and elicits self-motivational statements from the patient, using motivational interviewing principals

1-3 more appointments

with the therapist allow the patient to monitor changes, review strategies, and to encourage the patient to continue their plan
During appointments, a therapist using motivational enhancement therapy on an addiction patient may also suggest coping-strategies for high-risk situations, such as returning to a place or seeing a person associated with a patient's past drug use. In addition, some therapists encourage their patients to bring a significant other or important family member to one or more of their motivational enhancement therapy sessions.  
Trauma-Focused CBT May Help Addiction Sufferers with PTSD, Anxiety, and Depression
Trauma-focused CBT  is a specific type of cognitive-behavioral therapy that focuses on addressing the needs of a variety of individuals, including those with:
PTSD symptoms

Depression

Anxiety

Other disorders related to traumatic experiences
If an addict is using drugs to self-medicate for the symptoms of PTSD or a similar trauma-based disorder, trauma-focused CBT may be especially effective at determining and treating the root cause of the individual's addiction. This means that while Trauma-focused CBT may not be helpful for all patients, it can potentially make a big difference when applied to patients who have undergone especially traumatic life experiences.
Dialectical Behavioral Therapy Emphasizes Patient Strengths and Collaborative Therapeutic Relationships
Dialectical behavioral therapy (DBT) is another, specific kind of cognitive-behavioral therapy designed to treat borderline personality disorder, a disorder typified by instability in work and relationships, and a greater likelihood to engage in risky and compulsive behaviors, like risky sex and drug abuse. Since then, DBT has been used to treat a variety of other psychological issues, including addiction disorders.
DBT Therapy emphasizes three main characteristics, including:
Patient support:

DBT aims to help patients identify and use their strengths to increase confidence and self-esteem.

Cognition-focused: DBT helps patients to identify beliefs, thoughts, and assumptions that are making their recovery more difficult and helps patients learn healthier thinking methods.  

Collaborative relationships: DBT focuses on developing a collaborative relationship between the patient and therapist; each is encouraged to share information and problems about their own relationships. In many cases, homework and practice are required to learn and reinforce new psychological skills.
At Restore Drug Treatment Center LA for a Drug Addiction Treatment Center That Truly Cares
When it comes to psychotherapy, there are many types of treatment for addiction. If you're suffering from an addiction to alcohol or drugs, you may need to work through several of these therapies with a psychological professional before finding the one that works best for you. Everyone is different, so what works for you may not work for others. Fortunately, however, new therapies are being tried, tested, and refined every day, and as research and practice improve, many of these treatments may become even more effective for addiction patients.
If you're seeking treatment for drug addiction and don't know where to turn, look no further than Restore Center LA. Our state-of-the-art, community-based addiction treatment center emphasizes creating an individualized treatment plan for each patient based on a variety of personal, medical, and psychological factors. At Restore, we offer a diverse combination of traditional, evidence-based treatments and holistic therapies to give every patient more options to improve their physical, mental, and emotional health.
Visit our drug rehab center in Calabasas, CA at 6918 Owensmouth Ave Canoga Park, CA 91303. 24/7 Admissions (818) 722-9019. On-Site Contact (818) 806-3914.
Sources:
https://www.drugabuse.gov/publications/principles-drug-addiction-treatment-research-based-guide-third-edition/evidence-based-approaches-to-drug-addiction-treatment/behavioral-2
http://www.nctsnet.org/nctsn_assets/pdfs/TF-CBT_Implementation_Manual.pdf
https://psychcentral.com/lib/an-overview-of-dialectical-behavior-therapy/

---