Alcohol is a legal and easily obtainable substance in the United States. The degree of accessibility that the public has to alcohol, causes many people to underestimate the serious consequences associated with the substance. Although many people are able to enjoy an occasional drink without it negatively influencing their lives, alcoholism is a disorder that impacts millions of people each and every year. Once an alcohol dependence has formed, it often takes the help of trained professionals for an individual to overcome this potentially life-threatening disorder.
Alcoholism is generally characterized as a cycle of obsessive cravings, overuse and binge drinking, withdrawal, and continued use despite experiencing negative consequences. Examples of these consequences include both mental and physical health problems, relationship issues, and loss of employment. If you can identify with any of these characteristics of addiction, or have endured negative consequences as a result of alcohol abuse, it is important that you speak with an addiction specialist about the possible need for treatment. Call Restore Treatment Center at (888) 979-4570 for more information on how our specialized treatment programs can benefit you.
How Does Alcohol Abuse Cause Alcohol Dependence?
Alcohol abuse occurs before the development of an addiction. Binge drinking, for instance, is not necessarily a sign that someone is in need of addiction treatment, but it is a troubling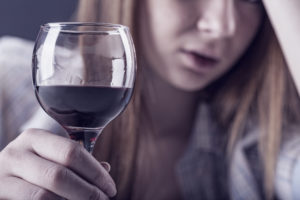 indication that a dependence on the substance may potentially form in the future. Alcohol abuse is common among the younger population, especially college students, who tend to binge drink and lose control while under the influence of alcohol.
Alcohol abuse is not to be taken lightly, as it is one of the main contributing factors behind alcoholism. Long-term abuse of the substance can cause changes to the way in which the brain functions and can eventually lead to physical and psychological dependence. Once the brain has become dependent on alcohol, withdrawal symptoms will occur upon the cessation of drinking.
Is Alcohol Detox Dangerous?
It is important for an alcoholic to seek medical attention from a professional detox treatment center when attempting to discontinue alcohol consumption. Alcohol detox should never be carried out on one's own, as alcoholism is known to cause dangerous and severe withdrawal symptoms, which can be both physically and psychologically distressing. In some cases, acute symptoms of alcohol withdrawal can result in death, and therefore, addiction professionals must oversee the detoxification process. At Restore Alcohol Detox Rehab LA, we attend to your needs and offer trusted supervision during the course of withdrawal. Our certified team of clinical staff monitors each client 24 hours a day, 7 days a week during the detoxification phase, in order to manage alcohol withdrawal symptoms through therapeutic activity and ensure the safety of our clients. At Restore, you can be sure that you are receiving the highest quality of care for your needs, as we specialize in treating alcohol dependence.
What Are The Symptoms Of Alcohol Withdrawal?
In the early stages of alcohol detox, severe withdrawal symptoms, such as seizures, can occur over the first few days. Mild to moderate symptoms of alcohol withdrawal subside after about a week, and commonly include: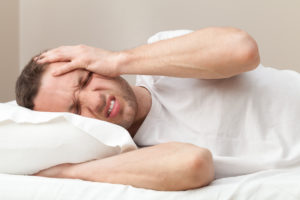 Body tremors
Headaches
Confusion
Vomiting
Sweating
Common alcohol withdrawal symptoms that can persist for several weeks include:
Insomnia
Anxiety
Depression
Hallucinations
Agitation
Delirium Tremens, one of the most severe symptoms of alcohol withdrawal, can put an alcoholic's health and life at risk. It is important to understand that without medical support, delirium tremens can be fatal. At Restore Alcohol Rehab, our mental health professionals are dedicated to helping clients safely and successfully detox from alcohol. We have therapeutic options available – as well as over the counter medications – that work to lessen the severity of withdrawal and reduce drug cravings during the initial phase of addiction recovery. Managing unpleasant withdrawal symptoms at the start of alcoholism treatment is possible with the help the professionals at Restore drug and alcohol rehab center.
The Benefits of Continued Care and Therapy for Alcohol Addiction Recovery
When carried out under the supervision of addiction professionals, alcohol detox can help prevent the likelihood of relapse during the difficult withdrawal period. Once detoxification is complete, clients are highly advised to participate in our alcohol rehab programs, which are designed with each person's unique needs in mind.
Continued care after detox usually involves regular therapy sessions with a trained addiction counselor. Because it has proved to be effective in numerous studies, many of the Restore Treatment therapists abide by a variety of cognitive behavioral therapy (CBT). In CBT, clients will identify negative thought and behavior patterns associated with their drinking in the past,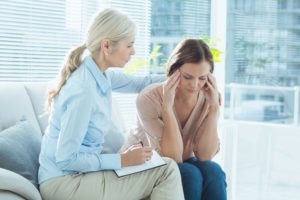 and learn to deal with these emotions in a positive, healthy manner.
Cognitive behavioral therapy is highly versatile and can be used in more than just a therapeutic counseling setting. During alcoholism treatment at Restore, CBT is often applied in family therapy and couples counseling to help improve how loved ones deal with the problem of alcoholism. It can also enhance the functioning of the relationship between addicts and their family members or significant other.
Alcohol addiction recovery can be fostered through participation in community-based groups, such as Alcoholics Anonymous (AA). Working through the 12-steps of AA can improve treatment adherence and treatment outcomes because it provides an addict in recovery with goal-oriented activities and improved social relationships.
Why Seek Professional Help For Alcohol Addiction?
If left untreated, alcoholism can have many adverse health effects. Heavy drinking takes a major toll on the body's heart and entire cardiovascular system, bringing about problems such as cardiac arrhythmia, cardiomyopathy, and high blood pressure. When allowed to progress, these problems can lead to serious, irreversible, health issues.
Alcohol is metabolized by the liver, which poses a unique risk to such an important organ. Long-term alcoholics often develop health conditions, such as fatty liver, cirrhosis, fibrosis, and alcoholic hepatitis. Evidence has also shown that excessive alcohol intake can increase one's risk for certain cancers, and cause a dangerous inflammatory pancreatic condition, known as pancreatitis.
The negative consequences of an alcohol dependence are severe, but there are numerous effective treatment options available at Restore Alcohol Rehab to help people who are suffering from substance abuse and addiction. With the proper treatment and care, long-term abstinence is possible.