There are several methods used to for tackle drug abuse and addiction – from medication treatment, through to behavioral therapy and 12-step support groups. The entire treatment process is often divided into three separate, yet integrated, phases: detoxification, rehabilitation, and aftercare support. While detox enables the cessation of drug use and aftercare promotes long-term recovery, addiction rehab is the cornerstone of most treatment regimes. There are multiple levels of care available at Restore Detox Rehab LA, including residential rehab, intensive outpatient programs, regular outpatient treatment, and partial hospitalization. Before embarking on the road to recovery, it is important to understand the difference between these distinct services, so that you can choose one that best fits your individual needs.
What is Intensive Outpatient Treatment?
Intensive outpatient programs (IOP) can be used to treat a range of chemical dependencies, including alcoholism, prescription drug dependence, and addictions to illicit drugs. IOP has also proved to be successful in other contexts, such as eating disorders, anxiety and panic disorders, depression, self-harm, and other forms of mental illness. Because IOP operates on a small scale, it does not require the extensive residential or partial hospitalization services offered at most rehab treatment centers. Intensive outpatient programs generally last for a period of 30 days, with individual treatment programs available between 10 and 12 hours each week. The level of clinical care required will depend on the individual, the substance of addiction, the extent of abuse, and whether or not a mental illness is present. Group and individual addiction therapy are also used in intensive outpatient treatment, with clients advised to enter a 12-step support program in addition to active IOP participation.
What are the Benefits of Intensive Outpatient Treatment?
Intensive outpatient treatment programs at Restore Drug Treatment LA, offer a number of benefits for recovering alcoholics and drug addicts, many of whom would fall between the cracks if they did not engage in these services. Unlike conventional residential rehabilitation and partial hospitalization programs, IOP is an inexpensive and flexible treatment alternative that is accessible by every alcoholic and drug addict. Because clients of intensive outpatient treatment live at home for the duration of the rehabilitation program, they are able to carry out regular work and family commitments while receiving the help they need.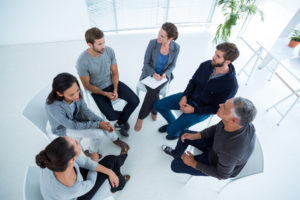 This allows clients to take advantage of existing support structures outside of treatment, making it much easier to transition from addiction therapy to everyday life.
During intensive outpatient treatment, addicts in recovery are taught new psychological coping skills and will learn how to recognize relapse triggers and avoid high risk situations. By knowing how to identify cognitive and emotional distortions as they arise, clients can better avoid the impulsive and compulsive behavioral responses associated with substance abuse. Treatment modalities that are available in this context include: family therapy, motivational enhancement therapy, group counseling, moral reconation therapy (MRT), and various forms of cognitive behavioral therapy (CBT). Practical support is also available to help clients with matters such as accommodations, education, and employment.
What Comes After Addiction Rehabilitation?
Successful rehabilitation treatment requires long-term effort and commitment. While medical detox enables the discontinuation of drug use under medical supervision and rehab services addresses many of the psychological factors associated with addiction, further measures are also needed to ensure lifelong recovery. Relapse prevention and aftercare support programs are always advised following residential and outpatient rehab. Examples of aftercare programs include SMART Recovery, sober living, Alcoholics Anonymous (AA), Narcotics Anonymous (NA), and family therapy, among many others. These programs form a crucial link in the drug treatment chain, with recovering addicts learning how to recognize potential relapse triggers and cope with challenging life events as they occur.
If you are dependent on drugs or alcohol, and have a strong desire to get clean, it is important that you reach out for help as soon as possible. Contact the Restore Drug and Alcohol Treatment Center and speak with an addiction specialist about our intensive outpatient treatment program and how to begin your road to recovery today.