At the Restore Treatment Center, our mission is to be the leading provider of quality, comprehensive care for the treatment of alcoholism, drug addiction, and co-occurring disorders. We are in the business of helping people heal their lives from the destruction that the disease of addiction has caused them. We believe that addiction is a primary physiological illness, progressive in nature and terminal if left untreated. At Restore Drug Treatment LA, we know that we have the solutions, and that any client who follows our treatment plan will begin to heal.
We believe that as long as an alcoholic or addict is alive, there is hope for healing. We act with the certainty that our every contact with a practicing addict may be that addict's last chance at recovery. We believe that every crisis serves as an opportunity to bring an addict into addiction rehabilitation.
We commit ourselves, as our first priority, to the client in treatment. Next, in the certain knowledge that we can help, we commit ourselves to finding and attracting the alcoholic or addict who still suffers. At Restore Treatment LA, we recognize that the key to our continued success is our ability to reach the addict in need, and our willingness to take immediate action to help.
If someone you love is suffering from alcoholism, drug dependence or a co-existing mental illness, it is important that you reach out for help in a timely manner. Pick up the phone and call Restore Treatment Center at (855) 636-5785 today to learn why our facility is the best place to undergo addiction rehab treatment for lifelong recovery.
Restore Drug and Alcohol Addiction Treatment
Restore Rehab Detox Treatment Center offers a full continuum of care, which incorporates both traditional and alternative therapies, as well as counseling services, into all of our treatment regimens. Our cost-effective addiction recovery programs vary in structure, technique, and approach to treatment. At Restore Drug Rehab LA, we gear our efforts towards providing you with the highest quality of care, at an affordable price. We understand the extensive level of damage that alcoholism and drug addiction can have on the lives of those who suffer, and therefore, our rehabilitation programs focus entirely on healing and improving the emotional, physical, and psychological conditions of our clients and their loved ones.
While working through each stage of your recovery at Restore Rehab Detox Treatment Center, you will come to understand your chemical dependence and the underlying reasons for its development, learn identify your personal addiction triggers, develop vital coping mechanisms, repair relationships with family members and loved ones, and gain a higher sense of self-worth. The core concept of our mission at Restore Drug Treatment LA is to support and guide you through the recovery process, and help you successfully achieve and maintain sobriety for a lifetime.
Our Vision at Restore Treatment LA
At Restore Rehab Detox Treatment LA, our addiction recovery programs provide you with the opportunity to form relationships that are secure, safe, and honest. The fundamental goal of our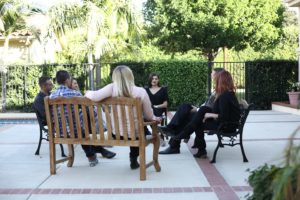 program is to help reintroduce people to themselves in a more loving way. Together, our therapeutic relationships promote ideas, creativity, connection, health, and stability. These relationships will help you to rebuild yourself, your family, and your connections with loved ones. Restore Drug and Alcohol Treatment Center offers a supportive recovery environment, where verbal communication is encouraged, and an addicted person can build healthy attachments and a sober lifestyle.
The Restore Treatment Center understands that many people who struggle with addiction have endured a number of repeated relapses and unsuccessful interventions. We are committed to providing effective, comprehensive addiction rehabilitation treatment, to ensure that every person who turns to us for help will be successful in achieving lifelong sobriety. Our objective is to create a strong therapeutic partnership that establishes lasting peace, safety, health, and freedom. The partnership with our clients and families delivers healthy alternatives for substance abuse, and helps to build a bridge back to our families and our communities.
Begin Your Recovery From Addiction At Restore Treatment Center Today!
Here at the Restore Treatment Center, we specialize in treating drug and alcohol dependence, as well as co-occurring mental health disorders. Our team of highly trained professionals and caring staff implement evidence-based treatment modules into the addiction recovery process, and supply luxurious residential accommodations and stimulating outdoor activities to make certain that the residents of Restore Treatment LA are in the best of hands. Your recovery from addiction is our highest priority, and we will go to great lengths to certify your success.
The first step of any recovery from addiction is to recognize that a drug or alcohol problem exists, and then accept the need for treatment. Take the first step today and call Restore Treatment Center to speak with one of our addiction rehabilitation professionals for help beginning your journey on the road to recovery.