Many people who suffer from alcoholism, drug dependence, or mental illness require more than just traditional treatments and therapies for a successful recovery. Research has shown that incorporating alternative therapies into the course of addiction rehabilitation can vastly benefit those who are working to overcome a substance use disorder or co-occurring illnesses. Yoga therapy is one of the most commonly used holistic treatment methods for drug addiction, alcohol dependence, and co-existing disorders. At Restore Treatment Center, we often apply yoga therapy in each level of care, as it helps to support the recovery process by reducing cravings, and diminishing stress and agitation. This form of alternative therapy is also a constructive tool for relapse prevention and aftercare services.
What Is Yoga Therapy For Addiction Recovery?
Restorative yoga is a practice that uses postures and poses, in combination with controlled breathing techniques, to calm the mind and induce relaxation. Yoga unites the mind, body, and spirit to help all three work together as one. In addition to being a natural stress reliever, yoga releases toxic chemicals from the body and negative thoughts from the mind. Similar to the way in which addiction treatment functions by helping people to recover from the use of drugs and alcohol, yoga therapy works as an additional healing mechanism. The act of yoga tackles the emotional issues that commonly fuel addiction, by generating peace in the mind, promoting natural sensations of gratitude, and strengthening the body's physical structure. When integrated into drug and alcohol addiction rehab, yoga therapy can significantly advance the success of one's recovery from drug dependence or a co-existing mental illness.
Who Is A Suitable Candidate For Yoga Therapy?
Research indicates that yoga therapy can be highly beneficial in helping addicts learn to manage and reduce stress. Yoga also lessens symptoms of anxiety and depression, which are highly associated with addiction, as well as rehabilitation and recovery. The therapeutic act of yoga can be of valuable use for every addict in recovery, but it is especially beneficial for people who have a mental illness that co-occurs with a substance use disorder, such as anxiety and panic disorders, depression, Post-Traumatic Stress Disorder, or issues with body image.
In order for drug and alcohol rehabilitation programs to be successful, Restore Treatment Center customizes individualized treatment plans to fit the unique needs of the client. What works best for one person's recovery may not be effective for another addict's success. Because of this, it is important to identify which treatment therapies, both traditional and holistic, will be of most help during an addict's recovery.
How Does Yoga Promote Lasting Recovery?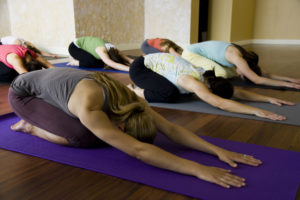 At Restore Drug Treatment LA, a licensed instructor leads our yoga therapy program. The yoga instructor guides clients through a variety of stretches and breathing exercises, which help to improve circulation throughout the entire body. By learning to control breathing and clear the mind, yoga teaches addicts to accomplish peace and balance, create a spiritual connection, and learn self-discipline.
Yoga is a holistic therapy that can greatly increase treatment success rates for substance abuse and addiction recovery. Yoga not only offers clarity in the mind and a decrease in stress and anxiety, but it also improves organ functioning, digestion, and stabilization of the nervous system. When used in drug and alcohol addiction treatment and recovery, yoga therapy can serve as a positive outlet for many addicts.
Yoga Therapy Can Enhance the Success of Addiction Treatment
Several treatment options and therapy programs can lead to a successful recovery. However, the type of rehabilitation programs required for lifelong sobriety maintenance will depend on the individual in question and his or her unique needs. Addicts commonly experience overwhelming emotions that can make the recovery process more difficult, and may even discourage some clients from completing treatment. By practicing yoga during and after addiction rehab clients will be more emotionally stable and motivated to progress on through the road to recovery.
It is widely understood that overcoming drug dependence or co-occurring disorders is no easy task, and countless efforts are essential in order for treatment to be effective. Yoga therapy is a valuable alternative rehabilitation program that can help an addict make great strides in treatment, as well as prevent a potential relapse throughout the course of recovery.