Substance abuse and addiction are problematic, staggering conditions that many people across the United States suffer from. Uncontrolled or excessive use of drugs or alcohol can take a devastating toll on a person's physical, mental, and emotional health. A combination of interactive therapies and comprehensive addiction treatment programs are customarily needed for a chemically dependent person to discontinue the use of drugs and alcohol ceaselessly. Although there are many effective programs that can be applied to addiction treatment, Restore Treatment Center has seen remarkable success from the utilization of cognitive behavioral therapy.
What Is Cognitive Behavioral Therapy?
Cognitive behavioral therapy (CBT) is a commonly used form of treatment for alcoholism and drug addiction. This form of therapy works to correct self-destructive behaviors and negative attitudes associated with addiction, by replacing them with healthy, positive habits for staying sober over the long-term.
A central element of our cognitive behavioral therapy program at Restore Drug Treatment LA, is to help recovering addicts learn to anticipate likely problems and enhance self-control through the development of effective coping strategies.
Specific techniques include:
Exploring the possible outcomes of continued drug or alcohol use
Self-monitoring to recognize cravings early and identify situations that might put one at risk for use
Developing strategies to cope with cravings
Learning tactics to avoid high-risk situations
At Restore Drug Rehab, we incorporate cognitive behavioral therapy into our relapse prevention programs for the treatment of alcoholism and drug dependence. CBT strategies are based on the theory that learning processes play a critical role in the development of maladaptive behavioral patterns. This therapy teaches addicts to identify and correct problematic behaviors by applying a range of different skills that can be used to stop drug use, and address a range of additional problems that often co-occur with it.
Cognitive Behavioral Therapy Supports Lifelong Recovery from Addiction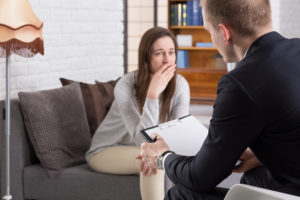 Research indicates that the skills recovering addicts acquire through cognitive behavioral approaches remain with them long after the completion of treatment. Current research findings focus on how combining CBT with treatment medications and other therapy modules can produce an even more powerful outcome.
Cognitive behavioral therapy has delivered pronounced success rates among our residents at Restore Drug Treatment LA. It has shown to be incredibly effective in helping divert our clients from revisiting old patterns of drug or alcohol use, following the completion comprehensive addiction treatment.
If you need access to quality treatment for a drug or alcohol addiction, Restore Treatment Center is readily available and highly equipped to guide you through the process of recovery.