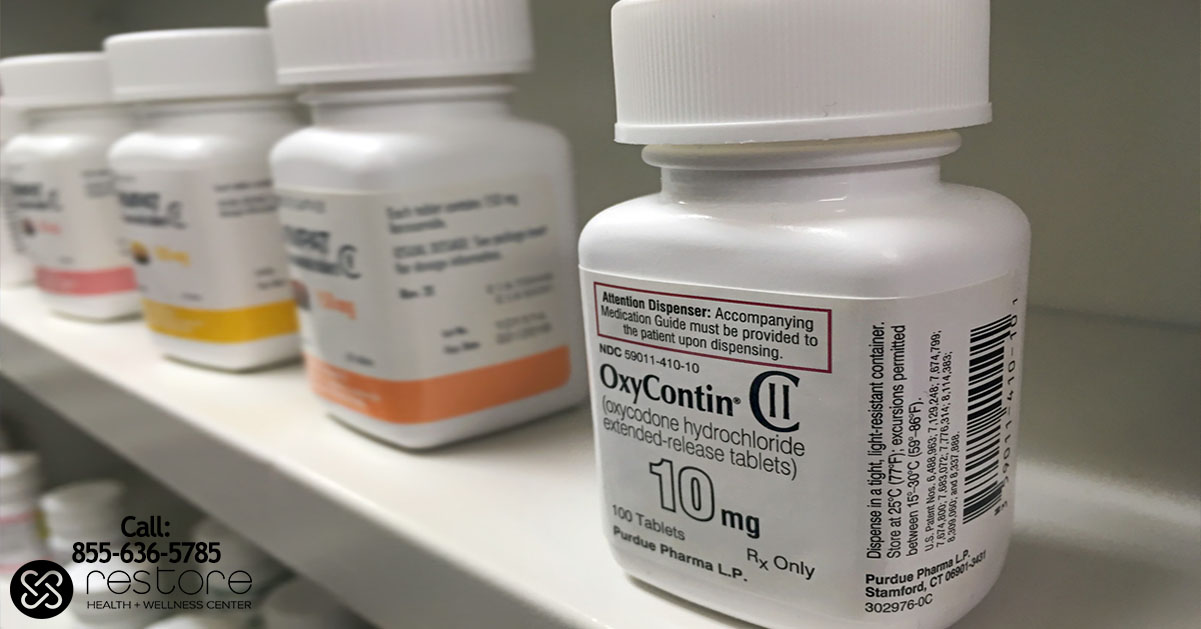 The powerful opiate known as OxyContin is used to treat severe pain. It may be prescribed for those undergoing cancer treatments or for those recovering from serious injuries. When taken as recommended, the drug can effectively benefit the lives of the people who require it. Yet, when abused, OxyContin can wreak havoc on the lives of addicts and their loved ones. Once someone has developed an addiction to the substance it is vital they seek professional treatment for OxyContin addiction.
What is OxyContin?
OxyContin is the extended-release version of the narcotic substance oxycodone. Oxycodone is the main ingredient in numerous medications, one of which is Percocet. Like all opioids, OxyContin is derived from the poppy plant. Opioids are commonly used to suppress feelings of pain and stress, and although these drugs can help improve certain individuals' quality of life, the potential for abuse and dependence is extremely high.
According to the DEA, OxyContin is classified as a Schedule II narcotic. Schedule II controlled substances are known for their high potential for misuse. Due to this, the substance is highly regulated and can only be obtained with a prescription. This is not to say that OxyContin addiction is not a serious concern in the United States. According to a 2013 and 2014 National Survey on Drug Use and Health (NSDUH), over 50% of people who abused prescription painkillers got them from a friend.
OxyContin Abuse and Addiction
Prolonged abuse of a particular substance such as OxyContin will likely lead to drug addiction. Addiction is a type of mental health disorder that occurs when a person becomes both mentally and physically dependent on a particular substance in order to function 'normally.' When someone suffers from an OxyContin dependency they will experience intense cravings when they do not take the drug. They will do almost anything to acquire the substance, regardless of any associated legal consequences. If an addict does not get their fix they will experience symptoms of withdrawal.
Examples of OxyContin Withdrawal Symptoms
Nausea
Vomiting
Lightheadedness or dizziness
Vision Problems
Anxiety
Depression
Abdominal pain
Similar symptoms will be experienced during an OxyContin overdose, as well as hypotension, circulatory arrest, and in severe cases, death. According to a study completed by the National Institute on Drug Abuse, close to 18,000 men and women suffered from fatal overdoses in 2015. This number has almost doubled since 2002. With this in mind, it is of utmost importance that addicts seek professional help for the best treatment for OxyContin Addiction possible. Professional care not only increases an addict's chances of achieving sobriety but maintaining it as well. Restore Health and Wellness Center has the OxyContin detox and treatment programs that can help you or a loved one safely overcome addiction once and for all.
Addiction Assessment
Those who have developed an addiction to OxyContin have a serious mental health condition that requires addiction therapists and medical professionals to intervene. Upon arrival at Restore, each individual must be carefully assessed in order to be treated in a way that will benefit the client most. Each evaluation will consist of a physical, psychological, and emotional assessment. By assessing the whole person, the staff is then able to develop a unique program that addresses each individual's root cause for the illness.
Each client will also be evaluated and treated for any co-occurring mental health issues or medical conditions upon arrival at Restore Health and Wellness Center. A co-occurring substance abuse disorder and mental illness, also known as a dual diagnosis, affects over half of those who struggle with addiction. It is vital to the success of the client that they are treated for both disorders simultaneously, should they exist.
OxyContin Detox
After the client is initially assessed, they must undergo detoxification before therapy can begin. Detox is the process of removing toxins caused by prolonged OxyContin abuse. At Restore Health and Wellness Center clients who are undergoing detox are monitored by medical professionals around the clock. Those with moderate to severe addictions will likely undergo a detox. This process involves administering medications, and slowly tapering clients off of them, in order to ease unpleasant symptoms of withdrawal.
It is vital that those suffering from an OxyContin addiction seek professional support during the detox phase. Not only does professional support lessen the chances of relapse, but it is the safest option for the addict. Opioid withdrawal can have devastating effects, especially when attempted on your own.
Treatment for OxyContin Addiction at Restore Health and Wellness Center
 There is no one size fits all OxyContin addiction treatment. Although most programs at Restore Health and Wellness Center typically include individual sessions, group sessions, family therapy, relapse prevention planning, and aftercare options, each client will be thoroughly assessed upon arrival. These assessments ensure that each individual is placed in the programming that will benefit their unique needs most.
Once each individual has been assessed and undergone detoxification they will participate in the numerous programs offered at Restore. Besides the basic individual and group therapy, clients will have the option to take part in our alternative programs. Just some examples of our alternative therapies include chiropractic care, yoga, and art therapy. Specialized programming is also offered which includes, but is not limited to, women's programs and programs for those in the LGBT community.
For more information about our treatment center for OxyContin addiction and the many options for care, call Restore Health and Wellness today at (888) 979-4570. The time to turn your life around is now. Visit our drug rehab center in Encino, CA at 6918 Owensmouth Ave Canoga Park, CA 91303. 24/7 Admissions (818) 722-9019. On-Site Contact (818) 806-3914.
Resources:
---