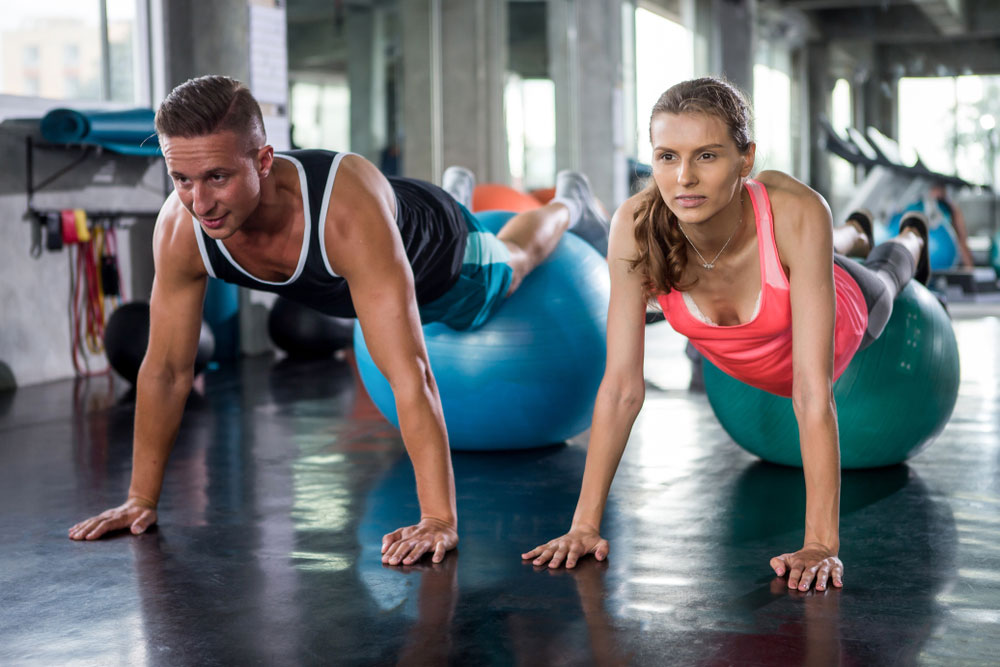 Using drugs and alcohol for prolonged periods of time profoundly alters our body chemistry. But it's not like going cold turkey will completely solve the problem either. Removing substances from a system that has grown accustomed to their presence can leave an individual feeling depressed, anxious, and fundamentally ill-equipped to deal with some of life's major stressors. Fortunately, there are solutions.
Physical activity is one of the best ways to deal with negative emotions while simultaneously yielding positive results. Whether you're just beginning your journey or have maintained sobriety for a decade, there are many benefits to exercise in addiction recovery.
Addiction Is A Disease
The American Society of Addiction Medicine defines addiction as a "primary chronic disease of brain reward, motivation, and related circuitry" that results in the afflicted individual "pathologically pursuing reward and/or relief by substance use and other behaviors."
Some of the characteristics of addiction include the inability to abstain from consumption, impairment, cravings, and the inability to recognize one's own behavioral problems and the resulting impact on interpersonal relationships. Another key component of addiction is the repetitive cycle of relapse and remission. ASAM concludes that intervention and treatment are imperative to breaking the cycle. If left unattended, addiction can result in permanent impairment or death.
Fortunately, exercise is an effective means of intervention and self-preservation.
Step One: Detox
Detox is foundational to any addiction recovery treatment. It is the first step towards an authentic commitment to therapy, rehabilitation, and aftercare. However, safe and effective methods of detoxing differ from person to person because every individual is different.
Yet however different people may be, there is one complimentary treatment that is becoming more and more common in addiction treatment programs across the country. Any guesses as to what it is?
Exercise Regulates Brain Chemistry
In addition to building physical strength, exercising regulates brain chemistry, which in turn aids in digestion, improves sleep, and helps distract from cravings. In fact, the Centers for Disease Control and Prevention recommend 2-3 hours of exercise per week for the average adult. Exercise improves endurance, which helps protect the body from diabetes and other chronic diseases. Most addiction counselors and specialists usually encourage a combination of strength training and aerobic exercises, which seems to serve as a solid foundation for most patients.
General Health Benefits
Contrary to popular belief, exercise and physical activity are not the same things. Physical activity is a very broad descriptor that encompasses any activity that promotes muscle movement. This could include walking, climbing, and even things like housework and gardening. Exercise, on the other hand, is a planned physical activity that induces a variety of health benefits, including flexibility, stress relief, improved heart and lung health, stronger muscles, and increased endurance.
Exercise is often separated into three specific degrees: light, moderate, and heavy. The designations between each level are correlated with different heart and breathing rates that signify how hard the body is working. Subjectively, the intensity one experiences throughout the duration of a workout routine is directly correlated with their fitness levels when they first began the routine, even if the routine itself is objectively not very intense. This is why working out gets easier over time.
Exercise And Substance Abuse Have An Inverse Relationship
Some recent studies show that substance abuse and exercise are inversely related. People who exercise on a regular basis tend to drink and do drugs much less than those who do not exercise at all. On the flip side, 9% of early deaths are attributed to those who do not exercise at all. This makes a compelling case for integrating exercise into regular substance abuse treatment.
When people make a habit of exercising and feeling good about themselves they are less likely to return to their outworn self-destructive lifestyle. This is largely due to the fact that regular exercise stimulates the brain's reward system, the part of the brain that reacts to the neurotransmitter serotonin, norepinephrine, and dopamine. Research has also found that regular exercise increases functioning in the brain's frontal areas, which are adversely affected during periods of heavy substance abuse and play a large role in one's ability to disregard cravings.
Regular Exercise Releases Endorphins
One of the most difficult parts of rehabilitation and recovery is trying to rebalance brain chemistry. Drugs and alcohol profoundly alter the brain's wiring by attaching neurotransmitters to certain receptor cells and releasing serotonin, norepinephrine, and dopamine. When a person stops regularly consuming drugs or alcohol, the brain's ability to produce neurotransmitters is lackluster at best. This is how withdrawal symptoms rear their ugly heads. Common effects include anxiety, depression, cravings, insomnia, and suicidal thoughts.
While medical detox is an effective way of managing these symptoms, many of them can still recur, which is precisely where exercise comes in. Consistent exercise is a great way to release endorphins, hormones that help to regulate brain chemistry, improve mood, and stop cravings.
Reduces The Risk Of Other Chronic Illnesses
Prolonged drug and alcohol abuse can severely damage vital organs such as the heart, lungs, liver, brain, digestive system, and more. Conversely, regular exercise is beneficial to the entire body. Research shows that it helps with diabetes, lowers the risk of specific types of cancer, reduces depression and anxiety, stimulates the immune system, and promotes cardiovascular health.
The Perfect Distraction
Traditionally, many programs have integrated meditation and meditative practices into their treatment plans to great success. Meditation helps the patient to ignore cravings while simultaneously providing stress relief. Exercise goes a little further in that it can distract from the severe cravings that often result in a relapse. When stress is at the forefront of the mind, when your mood is low but your anxiety is high, there's no better way to kick it all to the backseat than with a little exercise.
The Beauty Of Following A Schedule
In cognitive-behavioral therapy, it is common to practice varying degrees of planning in order to reduce cravings and compulsive behavior. Maintaining a schedule helps people build a routine and maintain structure while simultaneously aiding in stress management and preventing the kind of boredom that leads to a relapse.
If you or a loved one are struggling with addiction do not hesitate to contact us. We understand the reluctance to get help, but it is much easier than you think. Our addiction treatment programs use proven methods from all around the world to help our patients beat their addiction and discover themselves again. Our goal is to help you heal physically, mentally, and spiritually so you can live life to the fullest and never look back.
Restore Health and Wellness Center is an accredited and licensed drug and alcohol rehabilitation center. We provide comprehensive addiction treatment for alcoholism, drug addiction, co-occurring disorders, and more. Our facility accepts most major insurance companies, including Aetna, Cigna, BlueCross BlueShield, Humana, Premera, Meritain Health, and Anthem Blue Cross. However, if you are the one on your way to recovery we ask you to relax and let us worry about the insurance and admissions specifics so you can focus on what truly matters: your recovery.
Give us a call or send us an email to schedule a consultation, tour our facility, or learn more about our programs. Visit our addiction treatment center in Simi Valley at 6918 Owensmouth Ave Canoga Park, CA 91303. 24/7 Admissions (818) 722-9019. On-Site Contact (818) 806-3914.
---