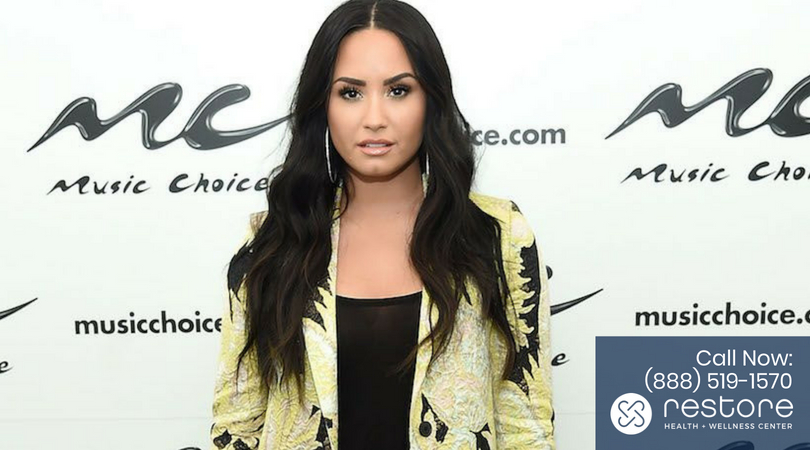 The nations substance abuse epidemic is once again back in our top news stories. This time mega pop music star, Demi Lovato has been admitted to a Los Angeles hospital for an apparent drug overdose. The Los Angeles Police Department received a 911 call, mid-morning on Tuesday, July 24th, at Lovato's residence in the Hollywood Hills. Emergency responders stated that a 25-year-old woman was given Narcan, a drug that is used to reverse an overdose or other opiates effects and stops a tragic overdose from killing someone.
Heroin Overdose Not Confirmed for Demi Lovato
Although spokespersons for Lovato have not yet commented about the alleged heroin overdose, Fox News reports that "Demi is awake and with her family who want to express thanks to everyone for the love, prayers, and support. Some of the information being reported is incorrect and they respectfully ask for privacy and not speculation as her health and recovery is the most important thing right now." (FOX News).
Lovato like many recovering addicts all throughout the world lives with the possibility of relapse every day. The solution to ending heroin and opioid overdoses and preventing relapse is professional drug and alcohol treatment. Lovato recently celebrated her six-year clean and sober Birthday this past March. She tweeted her thanks and expressed a warm attitude of gratitude.
Today is a very special day for me… I'm officially celebrating 6 years of sobriety!! I'm so thankful to my family, friends and @castcenters for being a part of this journey. A huge part of my recovery was learning to love myself and to give back to others.

— Demi Lovato (@ddlovato) March 15, 2018
The focus of this latest news story should not be whether Lovato did in fact relapse on opioids such as heroin or not. The focus needs to be on how others view the seriousness of the disease of addiction. Lovato has been forthcoming in her commitment to getting and staying clean and sober. She has publicly admitted that she is an addict and she deserves public support, not a judgment about what did or did not happen this past Tuesday. The fact of the matter is, she is a recovering addict who is battling addiction. The road to recovery often includes relapse but it does not have too.
Celebrities Struggling With Addiction
Demi Lovato is one of many celebrities with a history of struggling with addiction. She was a superstar at Disney and was swept into stardom at a very young age. As with many young pop music stars, the likelihood that they will experiment with drugs and become addicted is high. Similarly, our countries youth are also experimenting with drugs and becoming addicted. Lovato has a successful history of addiction recovery and her solution began when she admitted she was an addict and got professional help. The solution in how to end someone's addiction is professional addiction treatment and loving support from friends and family. Today, for Demi Lovato, the solution may just be the support of the public that will get her through the door towards long-term addiction recovery.
For more information on addiction, contact Restore Health and Wellness at (818) 408-4942. Visit our addiction treatment center in Calabasas at 6918 Owensmouth Ave Canoga Park, CA 91303. 24/7 Admissions (818) 722-9019. On-Site Contact (818) 806-3914.
Don't wait any longer!
For a drug and alcohol treatment center that truly cares, call Restore Treatment Center today at 888-519-1570
Verify Your Insurance Now
---