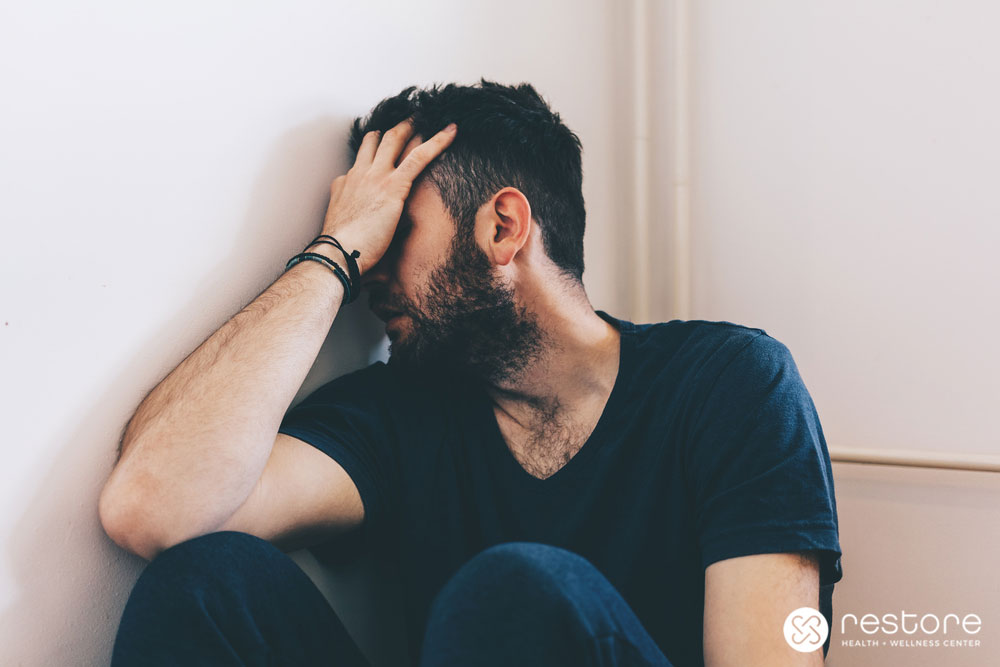 Alcoholism, also referred to as alcohol addiction, is a destructive disease that has life-threatening consequences and countless long-term negative health effects. Recognizing that someone has an alcohol use disorder can be tricky, because drinking is a common and widely accepted social activity. It can be difficult to determine what is considered normal, social consumption, and what is considered a substance abuse problem that needs addressing.
Fortunately, whether you are evaluating your own alcohol intake or that of someone you love, there are some distinct alcohol addiction signs and symptoms that you can look for.
If you or a loved one is struggling with a drinking problem, certified alcohol addiction treatment will be necessary in order to overcome the chronic disease of alcoholism.
What is Alcohol Addiction?
Alcohol addiction is the most severe form of alcohol abuse and involves the inability to manage drinking habits. Alcohol use disorder is grouped into three separate categories: mild, moderate, and severe. Each category exhibits various signs and symptoms and can cause harmful effects. If left untreated, even the mildest form of alcohol abuse can eventually develop into a severe addiction.
Alcohol is the most regularly used addictive chemical substance in the United States. This information comes as little surprise, as Americans have consumed alcohol for centuries – even going to great lengths to obtain the substance during the Prohibition, when alcohol was legally banned. Despite the popularity and social acceptance of drinking, it is actually one of the few drugs that are proven to cause physical and psychological dependence.
According to a 2018 report from the CDC, over 15 million people living in the U.S. are struggling with Alcohol Use Disorder (AUD). This study also found that an additional 65 million people regularly engage in binge drinking.
A person fits the criteria of an alcoholic if they:
Have a physical and/or psychological dependency on alcohol
Have developed a tolerance to the substance (they need to drink more in order to achieve the same desired effect)
Have a compulsive need to drink alcohol
Can't or won't stop drinking despite any consequences that the addiction has caused.
As previously discussed, two of the leading indicators of alcohol addiction are the building of tolerance and the presence of withdrawal symptoms when stopping use. When tolerance to alcohol builds in the body, the individual will need to regularly increase the amount of the substance they consume. The number of drinks they originated needed to achieve the desired effects will no longer suffice because of the developed tolerance, meaning more will need to be consumed. The other major symptom, withdrawal, causes the alcoholic user to experience several side effects as early as six hours after the individual had their last drink.
Alcohol withdrawal symptoms can include:
Agitation
Anxiety
Depression
Fatigue
Hallucinations
Insomnia
Irritability
Nausea
Seizures
Sweating
Tremors
Vomiting
Identifying The Signs and Symptoms of Alcoholism
In some cases, the signs and symptoms of an alcohol use disorder are very noticeable. In other instances, symptoms can take longer to surface, or the addicted individual has learned how to hide their substance abuse problem. It is important to always be aware of the individual's behavior and try to catch the disorder early on. By confronting a person with an alcohol use disorder in its early stages and getting them into a certified addiction treatment problem early on, they will have a better chance at being successful in recovery. In order to get yourself or someone you love the help they need, you must first learn what signs and symptoms to look for.
Common physical, psychological, and behavioral signs and symptoms of alcohol abuse include:
Lack of motor coordination
Slurred speech
Impaired thinking and judgment
Memory loss or impairment, such as blackouts
Inability to stop or cut down on drinking despite wanting to
Failure to fulfill obligations at work, with family, and in social life due to one's drinking
Hiding and being secretive about the extent of his or her alcohol use
Engaging in risky behavior, such as drunk driving
In denial about the extent of his or her alcohol problem
Experience extreme distress without access to alcohol
These signs and symptoms are all too commonly seen with alcohol addiction. If you notice a number of these in yourself or someone you love, it is important that you act quickly. When an alcohol addiction has formed, a quality rehab program must be sought out immediately. Without comprehensive alcohol addiction treatment, the substance abuse problem will only continue to get worse.
Find Certified Alcohol Addiction Treatment at Restore Health and Wellness Today!
You are not alone in your battle with addiction, as there are several top-rated drug and alcohol rehab programs that are available to help. The first step of recovery is recognizing the existence of the substance abuse problem and reaching out for help. If you believe you or someone you love is one of the millions struggling with alcohol addiction, contact our licensed addiction treatment specialists at Restore Health and Wellness today. Our admissions counselors are available to take your call around-the-clock to provide you with more information on our evidence-based and proven effective alcohol addiction treatment programs. Pick up the phone and dial (888) 979-4570 now to start your recovery journey today at Restore Health and Wellness today. Visit our alcohol rehab center in Simi Valley, CA at 6918 Owensmouth Ave Canoga Park, CA 91303. 24/7 Admissions (818) 722-9019. On-Site Contact (818) 806-3914.
---