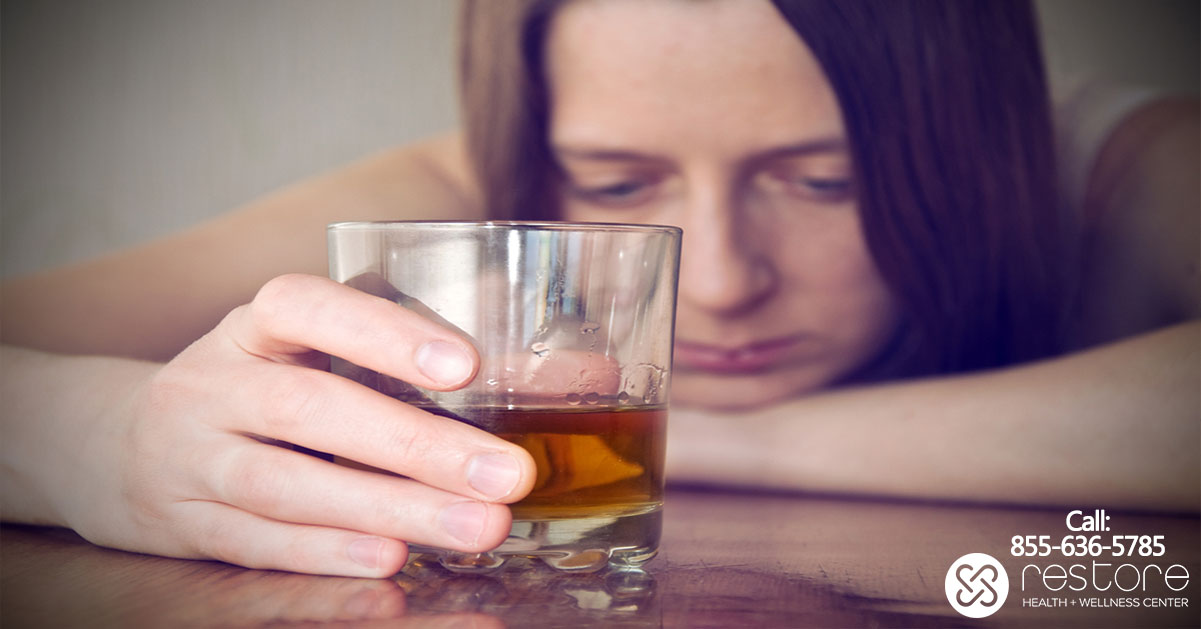 Bipolar disorder, once known as manic depression, is not only characterized by sudden intense shifts in mood but by sudden shifts in energy levels and behavior as well. When someone is in a manic state their judgment and ability to function cognitively is at risk for days or even a matter of weeks. A bipolar disorder is debilitating on its own, but unfortunately for many, it is not uncommon for it to co-occur with a form of addiction such as alcoholism.
The wide-ranging effects of both of these behaviors can have devastating effects on those who are affected by them. If you or someone you love needs help, seek clinical treatment for alcohol addiction and bipolar disorder.
What is Bipolar Disorder?
Everyone has the ability to experience intense episodes of anger, sadness, despair, or elation. Yet, someone who is diagnosed with a bipolar disorder experiences these same intense emotions, but they are unable to control them. These all-consuming episodes could potentially happen unwarranted. The four major types of mood episodes used to characterize the disorder include mania, hypomania, depression, and mixed episodes.
Unique symptoms characterize the four main episodes experienced by someone who struggles with a bipolar disorder. Examples of these symptoms include:
Mania- During these episodes, people often experience grandiose feelings. They may speak rapidly, sleep little, and experience hallucinations. The periods of incredible optimism and momentous pessimism experienced during manic episodes are often accompanied by delusional, irrational behavior.
Hypomania- Symptoms of hypomania are similar but less intense than the symptoms that occur during the manic phase. An individual experiencing hypomania is still able to manage their day to day life because psychotic symptoms, such as hallucinations, are not present during these episodes. Yet, these individuals are still more likely to engage in risky behaviors- substance abuse being one of them.
Depression- Feelings of hopelessness, general fatigue, self-loathing, loss of interest in food or activities that once made you happy, and even suicidal thoughts characterize episodes of depression. Periods of depression are especially dangerous for individuals who suffer from a dual diagnosis, as they may use alcohol as a form of self-medication.
Mixed Episodes- The type of mood episode a bipolar individual is experiencing is not always clear. For instance, you may experience hopeless feelings, combined with racing thoughts, loss of sleep, and changes in appetite. Unfortunately, mixed episodes lead many to engage in substance abuse in an attempt to balance out their unpredictable moods. Alcohol abuse is not only a temporary fix, but it has the ability to worsen symptoms and interact negatively with most medications for bipolar disorder.
The Relationship between Bipolar Disorder and Alcoholism
In a recent study conducted by the American Journal of Managed Care, approximately 56 percent of individuals who suffer from bipolar disorder had experienced a substance addiction at some point in their lives. Between drug and alcohol abuse, alcohol is the most commonly abused among these individuals. About 46 percent of the group surveyed were addicted to alcohol, compared to 41 percent who admitted to having an addiction to drugs.
A dual diagnosis, or a co-occurring disorder, characterizes a substance addiction combined with a mental illness. Alcohol addiction and bipolar disorder are known to be very closely related. One explanation for the co-occurrence of these disorders is the concept of self-medication. Someone experiencing intense mood swings may drink in order to suppress manic symptoms or numb feelings of depression. Although this may seem like a temporary fix for those who suffer from the illnesses, the National Institute of Mental Health has noted that drinking can cause the onset of depressed or manic moods.
The irrational need to engage in risk-taking behavior, which is oftentimes experienced during episodes of mania or hypomania, has also been closely linked to substance abuse. According to clinical researchers,  could also be influenced by similar abnormalities in brain chemistry. Serotonin, dopamine, and norepinephrine are known to affect mood, emotions, sleep, appetite, and the body's response to stress. Heavy alcohol use, as well as experiencing a manic or depressive episode, throw off these levels, causing emotional instability. Someone may turn to alcohol out of an unconscious need to stabilize their mood. Unfortunately, alcohol abuse has a less than the desired effect, making the symptoms of the disorder much worse, and the vicious cycle of addiction much stronger.
Treatment for Alcohol Addiction and Bipolar Disorder
The treatment involving co-occurring alcohol addiction and bipolar disorder is a complex process. Fortunately, the proven clinical practices and highly trained medical professionals at Restore Health and Wellness Center address each client's unique neurological, psychological, physical, and psychosocial needs.
Some programs known to benefit those struggling from the co-occurrence of these disorders include:
Motivational Interviewing- Motivational Interviewing (MI) encourages therapists and clients to collaborate in order to both define and achieve self-defined goals. This positive approach centers around the client's needs, and in the case of a bipolar disorder, motivates them to overcome ambivalent feelings toward psychiatric medication.
Cognitive Behavioral Therapy (CBT) – This form of therapy addresses the destructive behavior patterns that have contributed to the addiction or mental illness. By identifying these negative behaviors, clients are able to replace them with more positive coping strategies.
Solution Focused Therapy- SFT is another client-centered approach that helps clients set and achieve individual goals. Yet, instead of exploring the root cause, or causes, of the illness, Solution Focused Therapy focuses instead on the measurable outcomes of therapeutic programs.
Trauma Therapy- A history of trauma can dramatically increase the severity of a bipolar disorder or alcohol addiction. Therefore, focusing on trauma therapies targets memories that may not be processed and internalized fears that likely intensify the mental illness.
These therapies, when combined with any necessary medications, have the ability to both stabilize moods and curb the impulse to abuse alcohol. The clinical staff at Restore Health and Wellness Center want to see every client succeed and develop each individual's appropriate treatment regimen accordingly. Call Restore when you are ready to take your life back at (888) 979-4570. Proven treatment for alcohol addiction and bipolar disorder is only a phone call away. Visit our addiction treatment center in Calabasas at 6918 Owensmouth Ave Canoga Park, CA 91303. 24/7 Admissions (818) 722-9019. On-Site Contact (818) 806-3914.
Sources:
---