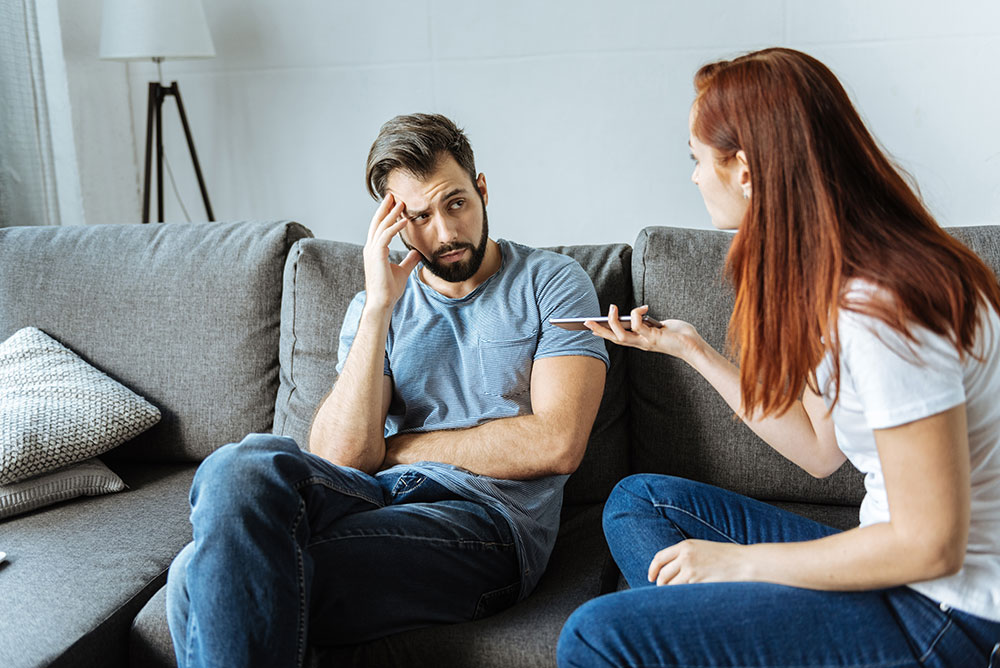 When someone you love is struggling with a substance abuse problem, finding the right way to approach them can be challenging. Whether it is a friend, family member, or loved one, talking about someone's addiction and their need for treatment is never easy. Despite having the best of intentions, confronting a person about their problem often results in heavy backlash, which can be uncomfortable and heart-rendering. While it may be difficult to talk to a loved one about his or her substance abuse, it is a vital conversation. This is often the push they need to seek professional help. Knowing and understanding the most effective methods for approaching someone with a substance abuse problem is crucial. Confronting the problem can mean the difference between them getting clean or continuing drug use. There are a series of steps you can take to approach your loved one in a caring, concerned manner without triggering negative backlash.
If someone you love is struggling with alcoholism or drug addiction there are several ways you can help. For additional information on effective intervention services or certified drug rehab programs, call and speak with our addiction treatment specialists at Restore Health and Wellness today.
Educate Yourself on Drug Addiction
The first step in assisting a loved one who is suffering from addiction is to gain a greater understanding of substance use disorders overall. According to the National Institute on Drug Abuse, addiction is defined as:
"Addiction is a chronic disease characterized by drug seeking and use that is compulsive, or difficult to control, despite harmful consequences. The initial decision to take drugs is voluntary for most people, but repeated drug use can lead to brain changes that challenge an addicted person's self-control and interfere with their ability to resist intense urges to take drugs. These brain changes can be persistent, which is why drug addiction is considered a 'relapsing' disease."
The decision to use drugs or alcohol is a choice, however, addiction is not. Addiction does not discriminate against race, gender, age, religion, or social/economic status. Anyone can fall victim to this crippling and deadly disease. There are several factors that can open the doorway to addiction, such as mental health issues, genetics, environment, and even simply experimental interest. If you believe someone you love is abusing drugs or alcohol, there's a magnitude of signs and symptoms to look for.
Common signs of substance abuse and addiction include notable changes in his or her:
Sleep
Mood
Behavior
Energy levels
Weight
Eating habits
Appearance
Friend groups
Hobbies and interests
Trouble in relationships and problems at work or school are also common indicators of a substance abuse problem. If you notice a number of these pattern changes happening in your loved one's life, it's quite possible are using.
A person with a substance use disorder is not always aware that they have a problem. This is important to keep in mind when planning to approach them about it. It is often advised that family members first speak with a professional drug addiction interventionist before confronting a loved one. At Restore Health and Wellness, our professional interventionists are trained specifically to deal with families in search of help. An interventionist can advise you on the best way to talk to your loved one and can even mediate a group addiction intervention.
Have a One-on-One Conversation
The most widely used approach to getting someone to agree to seek treatment is a group intervention. Despite the popularity and effectiveness of this method, your loved one may benefit more from a one-on-one personal conversation first.
Group interventions can be overwhelming and can make your loved one feel attacked. In some instances, this can backfire, making the individual hostile and can even break trust. However, if the substance abuse problem is initially brought up in a one-on-one conversation where the person feels safe, this can open the door to further, more in-depth discussions down the road.
Your loved one may respond better if you speak to them personally, without the use of aggression, blame, or judgment. Remember that this is a discussion and not a lecture. Because of this, it is important to actively listen in order for effective communication.
Near the end of the conversation, you can recommend the possibility of speaking with a professional. However, if they become uneasy, aggressive, or defensive, it is best to take a step back and consider your other options. This will likely mean you will need to plan a group intervention.
Plan a Group Intervention
An addiction intervention is a carefully planned process carried out by family and friends of a person struggling with addiction. This important event is one of the most popular methods used to help people take the first step in recovery. Group addiction interventions can help your loved one recognize his or her substance abuse problem and the need to seek professional treatment. This method also reassures the individual that they have a strong network of support.
In a group intervention, family and friends create a constructive plan to confront their loved one about their substance abuse problem. You and the members of your group will need to plan the best time and place to hold the intervention. It is important that you hold the meeting in a location where the individual feels safe and comfortable. Each member of the group must plan what they are going to say and when they are going to say it. Preparation is key, as it vital to avoid spontaneity and talking out of turn during the meeting.
Crucial aspects of a successful addiction intervention include:
Staying on topic
Avoiding placing blame
Not making accusations
Refraining from using hurtful language
Staying positive and encouraging
Straying away from the intervention plan can result in failure to get your loved one professional help. An addiction intervention should focus on the positive, such as the fact that you want to help them get clean and healthy again. Your loved one must come to understand the negative effect that their actions and behaviors have had on themselves, as well as their family and friends.
Rather than placing blame, you can point out specific incidents or events in a careful manner to illustrate the problem. You should also express your feelings over how their addiction has changed them. Let them know they are loved and supported and that there is help available. When done correctly, a group intervention can give your loved one the push they need to seek drug and alcohol addiction treatment.
Find Help Today!
Approaching a loved one about their addiction can be very hard for family members and friends. It's normal to experience a sense of fear and worry during this time. You do not want to upset your loved one, nor have them decline your help. A drug or alcohol addiction intervention is one of your best chances of getting a loved one into treatment. You can enlist the help of a professional interventionist for information and guidance. An interventionist can guide you on how to hold an intervention, or they can help with planning and mediating the actual intervention.
Getting your loved one the help they need from a certified drug and alcohol treatment center is of the highest priority. At Restore Health and Wellness, we can assist and guide you through the intervention process, so that your loved one can achieve lasting sobriety. Call and speak with one of our professional addiction interventionists to get your loved one on the road to recovery today! We offer comprehensive programs for addiction treatment in Simi Valley and use proven methods to help you or a loved one break free from addiction. Visit us at 6918 Owensmouth Ave Canoga Park, CA 91303. 24/7 Admissions (818) 722-9019. On-Site Contact (818) 806-3914.
---