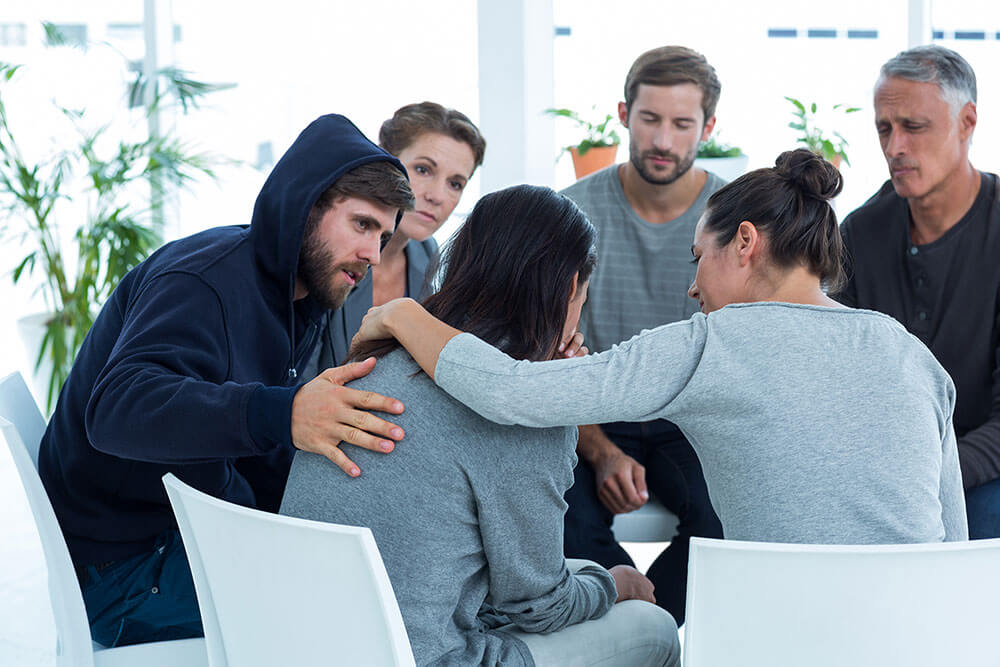 It can be very difficult to approach a person struggling with addiction. Family members, friends, or co-workers surely mean well and want only the best; but sometimes it's hard to know what to say or how to act and the addicted person might altogether deny they have a problem in the first place. This presents a struggle initiating conversation on the outset.
If you are the one offering help, recognizing outward signs of a struggle goes a long way in ensuring your help is well-received and effective. Learn to see indicators of personal strife including:
Secretive or reclusive behavior
Aggressiveness
Lack of energy or motivation to socialize or interact in public environments
Consistently borrowing money
Lack of concern for physical appearance
Health problems or issues at work or school
As difficult as it is to endure an addiction on a personal level, watching a loved one suffer can be painful and frustrating as well. In some situations, simply talking to someone with an addiction problem doesn't work and the next effective step is an intervention. If this is the case, a critical first step is to fully understand interventions and their place in recovery.
What is an Intervention?
Simply stated, an intervention is a meeting, either formally or informally, of family, friends, and sometimes professionals to help inspire behavioral change in a person struggling with addiction. The group discusses the harsh reality of the scenario and the impact of addictive behavior on their lives. An intervention blends support and education with an ultimate end goal of providing an addict a strategic platform with which to create change.
Intervention should always focus on the positive while making sure the person in question understands their condition directly affects the emotional and personal states of loved ones. The goal is awareness, not blame, and an eye toward a solution. Family and friends often want to hold an intervention on their own, and even choosing to bring in a professional leads to the same goal of creating a structured plan guiding the intervention "team," and leading the event.
When is it Time for an Intervention?
It is very difficult In the midst of addiction for an addict to face its reality. It is always best or an addict to seek the help of their own volition, yet this does not often happen. Many depend on the support of friends and family to eventually build the courage to ask for help. If a loved one is unable to remain in control of their life in spite of its problems, fails to see the mess they are in, and stays unreceptive to others' opinions; an intervention is likely necessary.
Who Should be Involved in an Intervention?
Most interventions usually include a combination of a person's family and friends. In some cases, counselors, therapists, sponsors, or other addiction professionals also attend. Always be sure the right group of people participates and never include anyone who condones drug use. Most importantly, select people with a genuine love for the person and who have their best interests in mind.
Staging an Effective Intervention
Interventions are not as simple as gathering in a room like a surprise birthday party and waiting for an addicted person to arrive home. Effective intervention events are comprised of several important steps.
Find a specialist
Your first step is to contact an intervention specialist to help maintain communication between parties. Specialists are also a great help in guiding addicts out of their denial. Attempting to confront an addict on your own often makes matters worse, with the person simply unwilling to accept help.
Form an intervention group
With an intervention specialist ready to go, family and friends can create an effective intervention strategy specific to the situation. Remember that there is no single plan for all cases and the group should work together to address individual needs. Some intervention groups also include grandparents, the addict's children, or other close relatives. In all cases, everyone assembled must be prepared for intense moments.
Know the subject
It is critical for all group members to be knowledgeable of addiction and associated recovery methods. Knowing what to expect helps provide insight into the process and is invaluable in calling attention to the problem. It is also important for the group to rehearse the intervention's details in order to move it forward in a productive manner, without distraction or potential for the conversation to go off the rails.
Remember that addiction changes brain chemistry, causing users to revere their drug of choice above everything else. To that end, an addict often does not realize how their actions affect others; even the most important people in their lives. Friends and family can leverage this element and help introduce moments of clarity to the struggling addict. Learning how their behavior has hurt those around him or her, an addict can take a big step forward toward realization and hopefully recovery.
Make follow-up plans
Prepare for what happens after the intervention. If you plan to encourage your loved one to seek treatment, be sure to have a treatment plan in place. Find a center that fits the scenario and is affordable and convenient. You may be able to transition the person into a program the same day, so make sure everything is pre-arranged and ready to go.
Make things as comfortable as possible for the person as well. It helps tremendously to feel relaxed when making such a dramatic change. Our intervention services at Restore Treatment Center can guide you through the process of planning and conducting an intervention for someone you love.  Visit our alcohol rehab center in Thousand Oaks, CA at 6918 Owensmouth Ave Canoga Park, CA 91303.  Available 24/7!
---