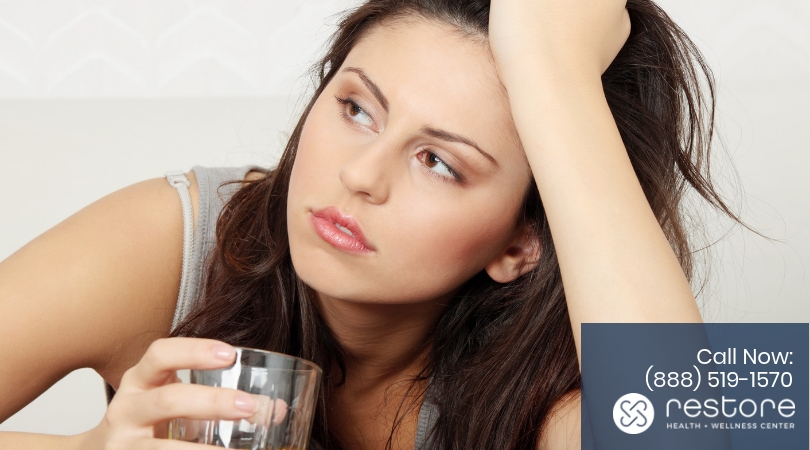 Professionals agree that there is an upswing in binge drinking moms throughout the United States. We know that alcoholism is dangerous, but it's rarely discussed how binge drinking affects mothers. This especially rings true for single moms, women that are new to motherhood, or career-oriented mothers.
Here at Restore Health and Wellness, we believe that at the end of the day, what moms need are ways in which to cope with the stressors of motherhood and possibly a career without grabbing a bottle of wine.
When One Glass Doesn't Cut It
What may start out as an innocent glass of wine while making dinner every night or to relax after the kids go to bed, may quickly change into 2, 3 or 4 glasses gulped down within a 2-3 hour period day after day; which according to the CDC describes a binge drinking mom. From our experience, binge drinkers are alcoholics and struggle with many of the same unhealthy symptoms. As they say in the rooms of Alcoholics Anonymous,
"One drink is too many, and a thousand is never enough."
So What's a Mom To Do?
Incorporate alternatives to binge drinking to cope with the joys of motherhood. Start here.
Just say no. When your 'to do' list is off the charts, it's OK to tell your neighbor you can't take them to pick up their car at the mechanic, or go to lunch, or watch their kids for an hour or two. Learning to say "no" will relieve some of the daily stressors that often make you pick up a drink in the first place.
Delegate. Teens in the house? Husband? Recruit them! It's good for teens, boys, and girls, to learn the skills of domestic management; their future spouses will thank you for it. Husbands will be happy to help when they see how doing so turns ragged mommy into a happy wife. Happy wife – happy life.
Sleep, sleep, and more sleep. Hard to do if there is a baby in the house;  that's when nap-time is best used for, well, naps; instead of cleaning the kitchen, doing laundry, or paying bills. Sleep is extremely important and will quickly have you feeling re-energized and refreshed, ready to tackle the problems ahead.
Exercise. There is plenty of DVDs that will coach you through an effective 30-minute workout. Take a walk around the neighborhood. Pray and walk at the same time and peace will fill your soul.
Eat a rainbow. Agreed, high-calorie foods are comforting. In reality, though, they add to the stress when the number on the scale increases. Eat a rainbow of fresh, organic, fruits, and veggies to increase energy, slim down (bonus!), and build your immune system.
If you feel like you're drinking too much, or know someone that is, contact our addiction specialists for a confidential assessment or visit our alcohol rehab center in Encino, CA at 6918 Owensmouth Ave Canoga Park, CA 91303. 24/7 Admissions (818) 722-9019. On-Site Contact (818) 806-3914.
Don't wait any longer!
For a drug and alcohol treatment center that truly cares, call Restore Treatment Center today at 888-519-1570
Verify Your Insurance Now
---