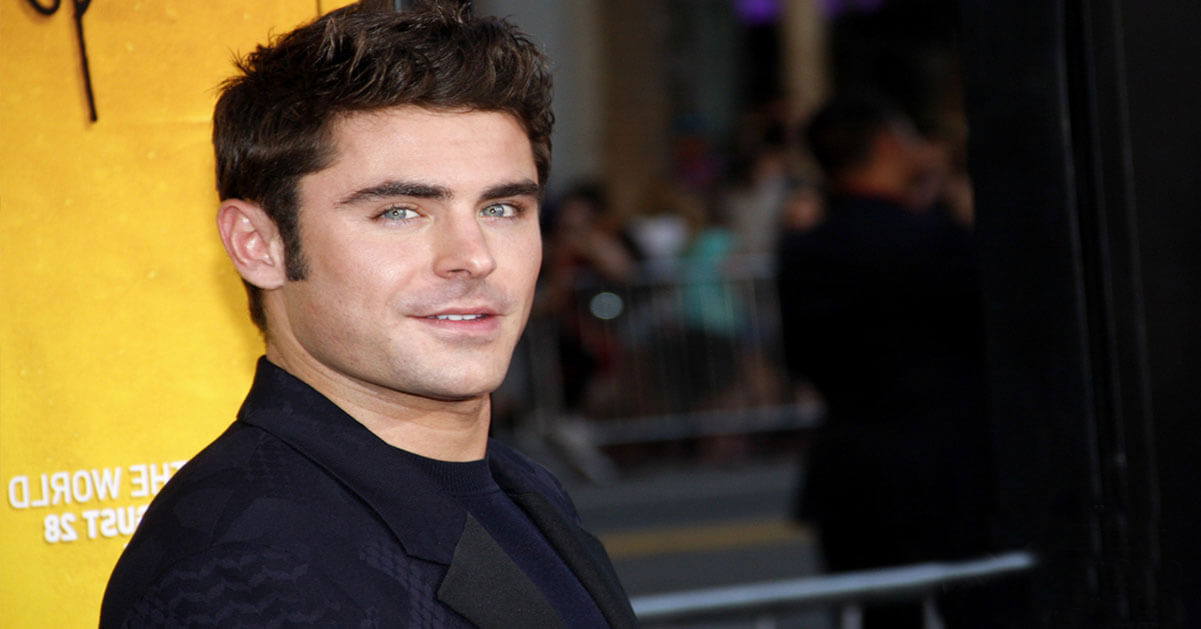 Zac Efron says that his grueling exercise routine before and during the production of the upcoming film Baywatch helped him to stay calm, focused, and sober. The 29-year old actor experienced highly-publicized problems with drugs and alcohol several years ago, eventually getting sober after attending an alcohol addiction rehab program in 2013.
He Turned to Drugs and Alcohol as a 'Social Lubricant'
Efron says his problems with alcohol abuse and addiction began when the pressures of celebrity life began to cause him anxiety. He specifically noted that media attention was the source of some of his stress, saying that "everywhere you go to a certain extent, there is press in some form."
The actor continued, "Whether you're going to an event where you're supposed to be out…there will be press there, if you're leaving your house to go to the grocery store, there will be press there. It can be everywhere and it can be confusing," also saying that "You spend a lot of time in your house, going crazy and pretty soon you need a social lubricant." Efron went on to explain that while at first, he only used alcohol during times of extreme stress, soon, he felt as if he needed to drink before going anywhere outside.
Efron Decided to Get Clean After Feeling That He Was Losing Sight of His Career
As his drinking slowly ramped up over time, Efron began to feel that it was negatively affecting his work. "I was caring less about the work and waiting more for the weekend," the actor told celebrity survivalist and TV host Bear Grylls. "I just really never again have to take anything from the outside into me to feel good about my outside, to be comfortable in my present skin."
After his 2013 stint in a rehab facility, however, Efron's emotional and psychological condition seems much improved. According to E! News, 5-months after Efron's rehab stay, a source close to the actor said: "he's healthy, happy, and not drinking."4 years later, the actor's career prospects seem brighter than ever; Baywatch, in which Efron co-stars with actor Dwayne "The Rock" Johnson, will be released this summer.
Do You Need Help for Addiction? At Restore Health and Wellness, We Provide Comprehensive Treatment Programs  
At Restore Health and Wellness Center LA, we're committed to helping individuals address the underlying causes of addiction so they can adopt new and healthier coping skills. With our individualized alcohol addiction treatment programs, you will learn more about yourself and how to effectively cope with stress, anxiety, and negative emotions. Our programs incorporate traditional, evidence-based treatments, as well as holistic therapies to give each patient the best shot at sustainable, long-term sobriety.
If you or someone you love is suffering from the disease of addiction, don't wait to get help, call Restore today. Each day an addiction continues is another opportunity for the development of serious physical, mental, and emotional problems, some of which may be permanent. Just one call can change your life forever. We can help restore your hope, happiness, and peace of mind. Visit our alcohol rehab center in Thousand Oaks, CA at 6918 Owensmouth Ave Canoga Park, CA 91303. 24/7 Admissions (818) 722-9019. On-Site Contact (818) 806-3914.
Sources:
---