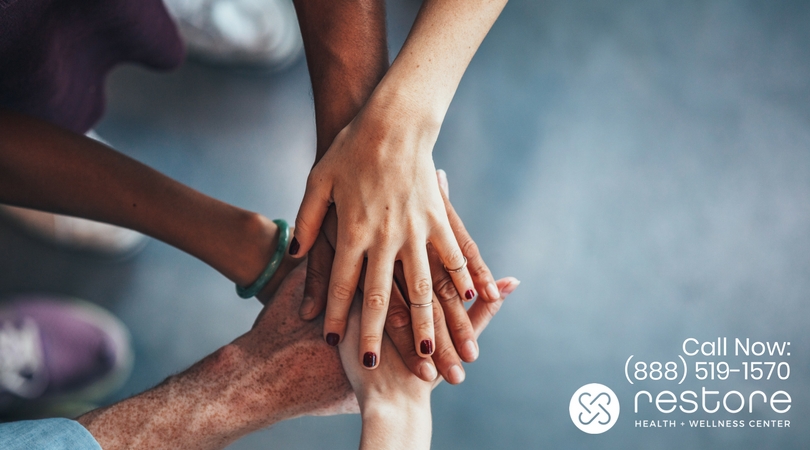 For those who don't take too fondly to the 12-step approach, SMART Recovery (Self-Management and Recovery Training) can be used as an alternative approach to obtaining recovery and is offered to clients at Restore Health And Wellness Center. SMART Recovery focuses on self-empowering addiction recovery support groups by offering practical tools, techniques, and strategies. SMART Recovery was founded in 1996 and deemed a non-profit organization, it doesn't base its works on any spiritual component or the disease approach. Tom Horvath, Ph.D., co-founder of SMART Recovery, states, "For many of our participants, addiction is not a disease. They want an alternative approach to both the disease concept and the 12 Steps."
The organization's approach emphasizes a secular and scientifically-based modality which can be attractive for those who do not connect with the spirituality-based technique. Unlike Alcoholics Anonymous, SMART Recovery embraces psychology and psychotherapy much more than the 12-steps. The keystone of SMART Recovery practices a non-confrontational, motivational, and cognitive method of treatment based on therapeutic principles.
In contrast to the 12-steps, SMART Recovery highlights a 4-Point program that helps an individual in the process of recovery. The 4-Point program can cover much of the same ground found in the 12-Step approach, however, applies scientific principles, including:
Building motivation and maintaining it
Coping with urges
Managing thoughts and feelings through problem-solving
Learning how to build a balanced life
Unlike traditional 12-Step programs, SMART instructors are required to receive training before they are allowed to hold group sessions. Teaching self-empowerment and self-reliance as the keys to sustainable sobriety, SMART encourages participants to map out their own path to recovery as opposed to a one size fits all model suggested by the 12-steps. In psychological terms, the core philosophies boil down to what is termed the "locus of control." For those with an internal locus of control, the future is seen as something that will be dictated on how one makes it out to be. On the other hand, those with an external locus of control dictate the future of how outside forces shape events and situations.
SMART Recovery in Addiction Treatment
SMART Recovery focuses on the internal locus aspects. For example, if an individual is having a thought of using, the SMART philosophy would put emphasis on learning how to deal with those cravings. There is work done on identifying the motivation behind the thoughts as well as what underlying personal issues one may be having. From these foundations, strategies can be implemented so an individual can change their situations and achieve balance.
SMART meetings are 60-90 minutes in length and at the beginning, those in attendance can introduce themselves. After the introduction, the agenda for the meeting is laid out and tools and strategies are discussed to help combat addictive behaviors and thoughts. At the conclusion, participants have the opportunity to openly discuss their thoughts. Crosstalk and discussion are encouraged in SMART Recovery.
The work of SMART Recovery has been recognized by the National Institute on Drug Abuse (NIDA) and the National Institute on Alcohol Abuse and Alcoholism (NIAAA). Embraced by numerous doctors, SMART Recovery has been endorsed by the American Academy of Physicians. However, none of these endorsements favor SMART Recovery over traditional 12-step programs. Instead, the endorsements sign off on SMART Recovery has a viable alternative to 12-step programs.
At Restore Health and Wellness Center, we embrace SMART Recovery as an effective method of maintaining your newfound sobriety. We engage our clients in a variety of alternative and holistic treatments for a complete approach to healing substance abuse. If you're interested in a confidential assessment, don't hesitate to contact us or visit our addiction treatment center in Simi Valley at 6918 Owensmouth Ave Canoga Park, CA 91303. 24/7 Admissions (818) 722-9019. On-Site Contact (818) 806-3914.
Don't wait any longer!
For a drug and alcohol treatment center that truly cares, call Restore Drug Rehab today at 888-519-1570
Verify Your Insurance Now
---