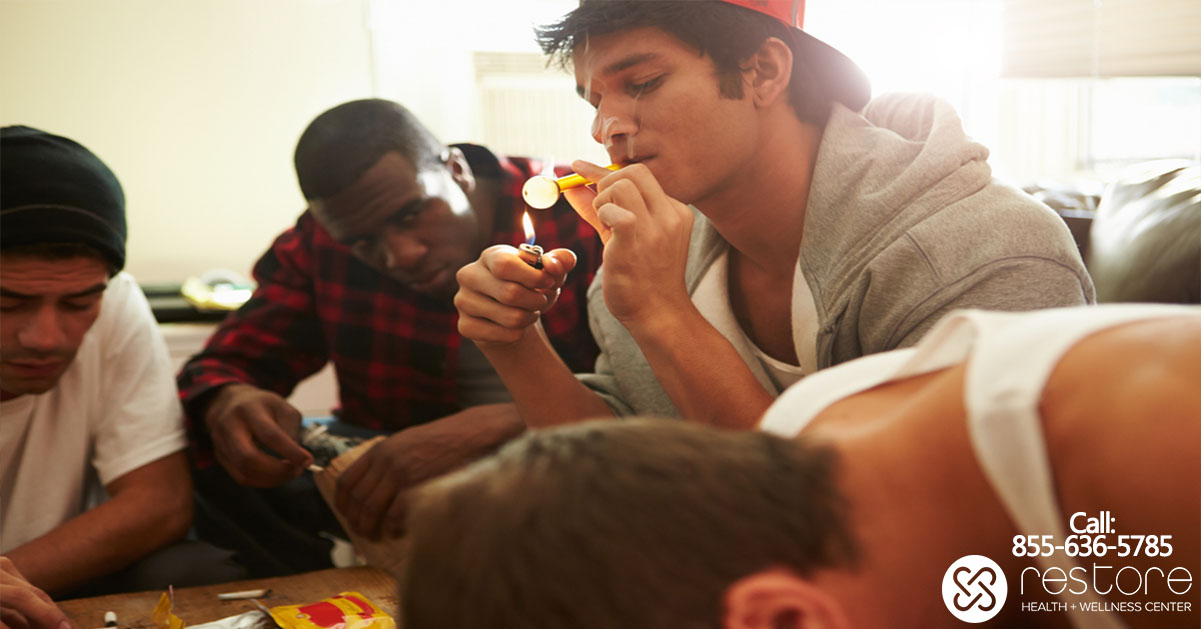 Meth is an incredibly dangerous drug, and users don't only get high, they often experience psychotic episodes in which they become violent or act strange. In addition to psychosis, meth addicts may experience serious long term damage to their vital organs, including their brain.
5 Fast Facts About Meth Abuse
According to data from a SAMHSA survey, 1.2 million people reported using methamphetamine in the last year in the U.S.

According to the same survey, 440,00 people reported using meth in the last month.

The amount of people using meth each month has decreased from 2006 when around 730,000 individuals reported past month meth use.

Despite this decrease, meth abuse is still a major problem in the United States, especially considering the fact that it disproportionately affects young people.

Each year, more than 100,000 Americans start using meth for the first time, with the average user being 19.7 years old.
What are the Short-Term Side Effects of Meth Addiction?
Unlike many other addictive drugs, which primarily damage the body and only secondarily damage the brain, meth has incredibly destructive effects on both the brains and bodies of users.
The short-term side effects of meth can include:
Reduction in appetite

Nausea, digestive and stomach issues

Strange and uncharacteristic behavior

Random acts of violence and other bizarre actions

Panic attacks

Psychosis

Insomnia, sleeping problems

Dilation of pupils

Increases in heart rate, blood pressure, and body temperature
What are the Long-Term Side Effects of Meth Addiction?
The long-term side effects of meth can include:
Psychosis, which often includes:

Paranoia


Delusions

Hallucinations

Jerky, repetitive, and or uncontrollable movements
Concentration problems, increased distraction

Desire and/or propensity to commit aggressive or violent acts

Memory loss

Sudden changes in mood

Extremely serious dental problems, i.e. "meth mouth" sores

Weight loss

Serious changes in brain function and structure, leading to:

Inability to think clearly

Problems with motor skills
What are the Best Treatment Program Options for Meth Addiction?
Unfortunately, there is no widely accepted medication that can effectively treat methamphetamine addiction and withdrawal symptoms. Some research has indicated that the antidepressant Paxil may be effective at reducing methamphetamine withdrawal symptoms, but more research is needed before this medication is used on a more widespread basis.
Other research shows that Dextroamphetamine, a stimulant medication used to treat ADHD, may also decrease meth dependence in users and potentially lead to other positive treatment outcomes. Researchers have looked at a variety of other medications, including gabapentin,  risperidone, sertraline, ondansetron, and modafinil, but have not found conclusive evidence that any of them are effective. Most experts agree that much more research is needed to help discover and test medications that may be able to help those who are dependent on meth conquer their destructive addictions.  
This lack of effective and proven medication means that most meth addiction treatment strategies are forced to rely on behavioral therapies, including cognitive-behavioral therapy (CBT), as well as contingency-management interventions.
Cognitive-behavioral-centered approaches, such as the Matrix Model, incorporate a variety of treatments, including family therapy, drug-testing, 12-step treatments, and other similar therapies to help a user get and stay sober. In contrast, contingency management interventions focus on providing patients rewards for abstaining from drug use and continuing their treatment program.
Methamphetamine Addiction Treatment at Restore Drug Rehab LA
Meth addiction is one of the most tragic drug epidemics in the United States. Sadly, not only does it change a user's body, it can radically change their personality and brain chemistry. Research indicates that, in many cases, psychosis developed when an individual is under the influence of meth may come to haunt them later in life, even if they have been sober for years or even decades.
However, much of the long term damage caused by meth can be prevented if a user gets treatment early enough. Brain scans of many meth addicts show that after 14 months sober, their brains look nearly the same as individuals who do not use drugs. Therefore, if you or someone you love is suffering from an addiction to meth, don't wait another day to get the treatment you need.
At Restore Health and Wellness LA, we're committed to providing the highest-quality treatment possible at our accredited, state-of-the-art recovery facility. Our meth addiction treatment programs are tailored to fit the needs of each patient. Treatment plans combine both evidence-based and holistic treatment therapies to ensure success in recovery.
When someone suffering from meth addiction comes to Restore, they aren't simply another patient; they're a member of a strong and vibrant recovery community. Visit our addiction treatment center in Encino, CA at 6918 Owensmouth Ave Canoga Park, CA 91303. 24/7 Admissions (818) 722-9019. On-Site Contact (818) 806-3914.
Sources:
---