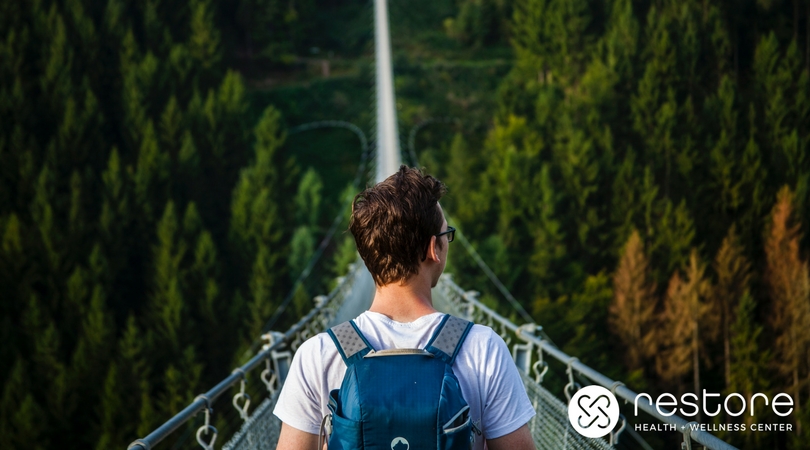 For most people, admitting they have a problem and entering a treatment facility is always the first major step towards sobriety. However, when most people think of addiction treatment, thoughts of one-on-one counseling, group therapy, and sitting in an office talking about feelings may flood their minds. It is important to remember that while these types of traditional programs exist, there are many non-traditional options offered. At Restore Health and Wellness, adventure therapy is an alternative treatment approach that has become increasingly popular, and it has been taking treatment to the next level.
Adventure therapy is known by several different names, including activity-based psychotherapy or counseling, wilderness therapy, or therapeutic excursions. Not only is adventure therapy about having fun, it's designed with an approach that offers profound therapeutic benefits, like teaching life lessons, working on a team, and exploring the impact of natural consequences due to poor choices. Additionally, the therapy stemmed approach of activities such as hiking, kayaking, rock climbing, or even cooperative games can tap into deep-rooted issues from one's past. By bringing these to the surface and getting a client out of their comfort zone, a client can learn to build self-confidence in an interactive way. Adventure therapy provides an opportunity to confront these issues and begin a healing process needed for a lifetime full of sobriety.
How Adventure Therapy Helps Addiction Treatment
Like other types of therapy, adventure therapy can use the experience itself to help individuals face and overcome emotional issues, behavioral problems, as well as many other challenges.
The many benefits of adventure therapy were evident in a study published in the journal Evaluation and Program Planning. The study included 36 adolescents with a range of mental health issues and who had participated in outpatient therapy. They completed a 10-week adventure therapy course. Researchers evaluated them before, immediately after, and three months from the conclusion of the program. The results showed that the participants had significant and lasting improvements in depression symptoms, psychological resilience, self-esteem in their peer groups, and emotional and behavioral functioning.
Examining inner struggles while facing outdoor experiences can be a mirror of our emotional state of being. In an additional study, researchers found that this kind of therapy was useful for teaching positive coping mechanisms for stress when used to complement traditional outpatient treatment services. Outdoor activities, conducted in a therapeutic setting, also helped clients form better relationships with their therapists. Other potential positive outcomes from adventure therapy include:
Encouraging and promoting a sense of responsibility
Building positive relationships and learning to cooperate with others
Acquiring other positive social skills, like communication and conflict resolution
Improving self-awareness and self-confidence
Increasing resiliency
Promoting greater engagement with therapy and a therapist
Encouraging openness and emotional discovery
Creating meaningful opportunities to face real-life experiences and challenges
Taking advantage of adventure therapy in treatment can be fun, scary, and exhilarating. It is clear to see while this kind of therapy has its clinical benefits. By taking the traditional normalities of treatment to a new level, our clients soon begin to realize that life without drugs or alcohol is not only possible but deeply fulfilling.
From our experience, a traditional approach to addiction treatment doesn't work for everyone. At Restore Health and Wellness Center, we take an out-of-the-box approach and implement many alternative and holistic methods of tackling substance abuse. Contact us today at (888) 979-4570 and let's see how we can help you recover safely. Visit our addiction treatment center in Calabasas at 6918 Owensmouth Ave Canoga Park, CA 91303. 24/7 Admissions (818) 722-9019. On-Site Contact (818) 806-3914.
---