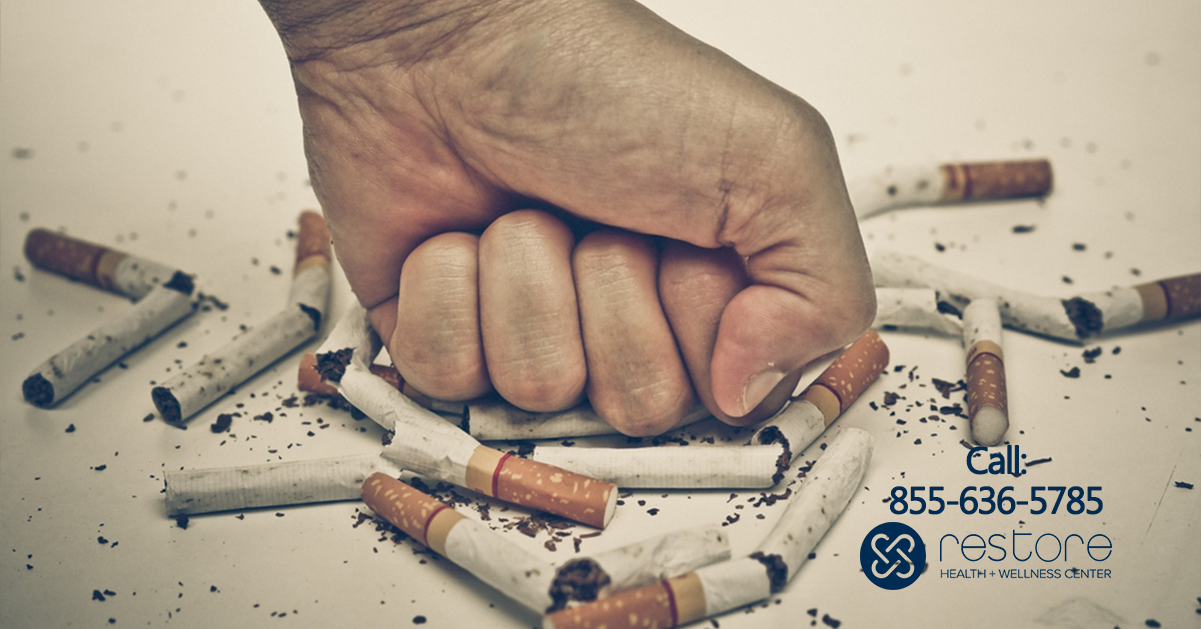 Let's face it: quitting smoking is tough. Nicotine is a powerful drug that influences and stimulates the brain's pleasure centers– so when a smoker stops, serious withdrawal symptoms start to begin. Restlessness, headaches, anxiety, food cravings, nausea, and difficulty concentrating are among the most common side effects of this process.
Despite the challenges of quitting cigarettes, it's never too late to 'start stopping,' and even the first days without cigarettes can have a remarkably positive effect on your health. Within 12 hours of quitting, carbon monoxide levels in your blood drop to normal, in within a few months, your risk of heart attack begins to drop. Within 1 year of quitting, your added risk of heart disease is only half that of a smoker's.
If all these facts have you geared up to quit (or to inspire a friend or family member to do so,) then keep reading, because we're about to show you ten of the best tips, tricks, and ideas to help you (or someone you care about) put down your (or their) lighter for good.
Get Support: You Don't Need to Quit Alone
Tell family, friends, coworkers, and acquaintances about your plans to quit. If you tell a lot of people, you'll feel like you have a reputation to live up to– and that usually means that you'll be less likely to cheat and resume smoking again. If friends and family aren't as helpful as you thought they might be, try attending a local support group for those quitting smoking. Who knows– you might even make a friend or two!
Avoid or Alter Behaviors or Habits Related to Smoking
If you have a cigarette right after drinking a cup of coffee in the morning, or right after having a beer after work, you may want to change things up to keep smoking off your mind. For example, treat yourself to a tea or hot chocolate– and avoid alcohol, as people who have had one or more drinks are much more likely to light up than those who've remained sober.
Start Exercising: It's Time to Sweat It Out!
Exercise has the ability to combat anxiety and depression while improving energy, concentration, and alertness, making it a great way to fight the withdrawal symptoms of cigarettes. Plus. it's hard to think about smoking when you can't catch your breath!
Consider Medication to Help You Through Nicotine Withdrawal
Much like calling or visiting family or friends for mental and emotional support, you should consider getting medication to help reduce the physical side effects of withdrawal from nicotine addiction. These medications can come in a variety of forms, including pills, patches, and gums.
Drink Water: It's Time to Stay Hydrated
Much like exercising, drinking water is a great way to increase concentration, mood, and energy while allowing the body to clear itself of harmful toxins– something that will definitely be occurring in the first few days and weeks after you quit the habit. Drinking enough water will also ensure that you stay safe and healthy while exercising or doing other strenuous activities.
Tidy Up: Clean Room, Home, Desk, and Vehicles to Reduce Stress
While it might not directly worsen the side effects of tobacco addiction and nicotine withdrawal, a messy home, office, or car can lead to increased stress and make you feel as if you're out of control. Luckily, this situation is easily fixed; simply tidy things up on a regular basis and you'll likely begin to feel more organized, empowered, confident in many areas of your life.
Spend Time with and/or Talk to Other Recent Quitters
If you're still spending a lot of time with friends who smoke cigarettes, you might want a change in company– at least while you yourself are trying to quit. If possible, hang out with friends or acquaintances who are quitting, or have succeeded in quitting recently, as they truly understand and may be able to provide you guidance, advice, or tips to help reduce your cravings for cigarettes.
 If You've Tried Quitting Before and Failed, Do Something Different!
If last time, you tried one medication, consider trying another this go around. If you tried large group therapy sessions last time, try one-on-one counseling this time. The right combination of help is different for everyone– so it's okay if it takes you a few tries to figure out– as long as you don't give up!
Try Quitting Gradually: Cold Turkey isn't the Only Way
While many organizations recommend quitting cold turkey instead of reducing your cigarette use over a few weeks or months, research shows that both sudden and gradual quitting methods had about the same level of long term effectiveness– so do whatever works best for you.
Find Your Reason: Keep Motivated and Stay Purposeful!
Nicotine addiction is a big challenge to overcome– which is why you need to big personal reason to do so. Maybe it's getting back in shape, or perhaps it's living long enough to meet your grandchildren, but whatever your reason, in order to work, it needs to very personal and very important to you!
On No Smoking Day, the Restore Center Works to Raise Awareness of Smoking's Dangers
Tobacco addiction is one of the deadliest substance use disorders on Earth, causing an average of 6 million preventable deaths each year. While it may cause harm as quickly as drugs like cocaine, methamphetamine, or heroin, smoking remains a powerful and persistent threat to public health.
Whether you're addicted to tobacco or other substances, you don't have to fight alone. If drug addiction has changed your life for the worse, the caring and compassionate addiction treatment specialists at Restore Health and Wellness can help. Visit our addiction treatment center in Thousand Oaks at 6918 Owensmouth Ave Canoga Park, CA 91303. 24/7 Admissions (818) 722-9019. On-Site Contact (818) 806-3914.

Sources:
---