Crack Addiction Treatment
Crack cocaine, commonly referred to simply as crack, is a very powerful illicit drug. Crack is a freebase form of cocaine, one of the most commonly abused drugs in America. Crack is the most addictive form of cocaine there is because of the significantly enhanced effects and potency, as well as its ability to rapidly produce a euphoric high. It is a powerful stimulant drug that speeds up both mental and physical processing when used, which heightens energy levels, attention, and focus. In addition to the vastly intense effects caused by Crack, it is less expensive than cocaine, making it highly desired among many drug users. Crack cocaine is highly addictive and should not be used under any circumstances. If you or someone you love is dependent on the drug, help from a certified Crack addiction treatment center will be needed in order to stop using.
The Effects of Crack Abuse
Regular use of Crack causes chemical changes to take place in the brain, causing those who abuse the drug to experience a 'need' for it. Because Crack alters the brain's chemical balance and structure, it no longer knows how to produce neurotransmitters such as dopamine naturally without the drug. Dopamine controls the brain's reward system and pleasure centers. When a person uses Crack, the brain is signaled to release excess amounts of dopamine, resulting in the 'rush' feeling. Without the drug, the brain isn't given a signal to release these neurotransmitters, which causes the user to experience negative feelings and a lack of motivation. Eventually, the person finds themselves using Crack just to feel normal – becoming depressed, lethargic, and irritable when they are not using.
Crack cocaine is smoked, which produces a much more powerful euphoric high than snorting cocaine. Although Crack takes effect almost instantly when used, the high does not last long, typically about five to ten minutes. In order to maintain the effects of the high and avoid the 'crash' that occurs when the drug wears off, Crack users will repeatedly smoke more of it. This is a dangerous cycle of abuse that can quickly lead to a dependency or addiction.
According to results from the 2014 National Survey on Drug Use and Health, the responses from participants aged 12 or older revealed that approximately 354,000 out of the 1.5 million current users of cocaine were Crack users. These numbers represent roughly 0.6 percent of the population ages 12 and older were cocaine users and 0.1 percent were current crack users in 2014.
Signs and Symptoms of Crack Cocaine Addiction
It is not always as easy as one might think to recognize crack abuse. You may perceive a user's behavior as them being overconfident or hyperactive and dismay the possibility of it being a sign of drug use. This how some people with an addiction to Crack can fly under the radar. Paying close attention to the notable signs and symptoms of Crack addiction when dealing with a person who exhibits this behavior can help you determine if a drug problem exists. Common signs and symptoms of Crack abuse include:
Aggressive behavior
Acting irresponsibly to a degree that is out of character
Burn marks on fingers
Crack or blistered lips
Disruptions in sleeping habits (insomnia)
Elevation in heart rate, breathing, and blood pressure
Enlarged pupils
Irritable
Manic behavior
Nervousness
Paranoia
Restlessness
Severe changes in mood
Shakiness or trembling (Jitters)
Suppressed appetite
Weightloss
The Diagnostic and Statistical Manual of Mental Disorders (DSM-5) states that a person must meet a minimum of two to three of the following criteria within the last 12-months to receive a diagnosis of a Stimulant Use Disorder:
Taking great amounts of Crack than originally planned
Failed attempts to cut down on or stop using Crack
Spends a profuse amount of time using, acquiring, or thinking about Crack
Experiences strong cravings to keep using
Neglects responsibilities and obligations at home, work, or school due to Crack use
Relationships with significant other or loved ones are affected by Crack use
Continues using Crack in spite of having knowledge of the risks and dangers
Activities that he or she previously enjoyed are put aside or abandoned for Crack use
Continues using Crack even after experiencing serious negative consequences
Develops a tolerance to Crack, requiring repeated increases of the amount taken to achieve the same high has before
If someone you love exhibits any of the signs listed above or meets the criteria for crack addiction, it is vital that you address the problem right away. Construct a plan for approaching them about the need for Crack addiction treatment and the options available. In many instances, seeking help and guidance from a professional addiction interventionist can be vastly beneficial. Call the addiction counselors at Restore Drug Treatment Center to learn more about the intervention services available.
Detoxing From Crack
Recovery from addiction is a process that has many steps, with the first being a period of detox for withdrawal. When a person with a Crack dependency attempts to stop using the drug, he or she will experience a variety of physical, mental, and emotional symptoms of withdrawal. Symptoms of crack withdrawal can be rather unpleasant and dangerous in many cases, and detox should never take place without supervision from substance abuse and mental health specialists. Being in a supervised environment with trained professionals during this time makes certain that the patient in safe and in good hands. A drug detox facility will help to manage the severity of Crack withdrawal symptoms and make the process of detox more comfortable for the person.
Symptoms of Crack Withdrawal include:
Anxiety
Depression
Disorientation
Fatigue
Flu-like symptoms
Irritability
Lack of concentration, focus, and attention
Lethargy
Long periods of sleep
Psychosis
Strong cravings to use
Thoughts and feelings of suicide
Violent behavior
In the event that a person attempts to detox alone and does not experience a relapse due to the strong drug cravings, they are still putting themselves at high risk. Symptoms of Crack withdrawal – most notably those that are psychological – can endanger the person's health and wellbeing. In order to avoid the risk of relapse or harm to one's self, it is advised that the detoxification process is conducted only while in the care of professionals.
Getting The Best Treatment For Crack Addiction
The most effective Crack drug rehab programs are designed to help those who suffer from even the most severe addiction to break free from the drug's overpowering physical and psychological hold. Detoxification programs work to break the physical dependence on the drug, whereas Crack addiction treatment addressing the psychological addiction or mental and emotional issues associated with drug use.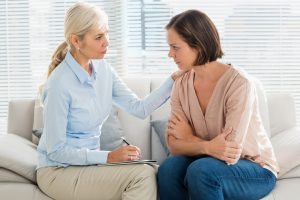 Seeking only a detox program will not be enough to maintain sobriety in recovery, and further rehabilitation will be needed.
At Restore Treatment LA we offer an array of high-performance programs that focus largely on the mental, emotional, and even spiritual aspect of your addiction. Our licensed and experienced therapists work with you one-on-one to uncover the problem at the source, dissect your drug dependence so that you can understand it entirely, and then help you to implement constructive coping mechanisms to prevent a return to old habits.
We offer a full continuum of care to support and guide our clients throughout their recovery journey – start to finish. There are multiple levels of care available at Restore Treatment LA, which also include relapse prevention and aftercare as a part of the program. The rehab options for crack addiction include:
Detox
Residential Rehab
Partial Hospitalization
Intensive Outpatient Program
Outpatient Treatment
Sober Living
Unlike most drug treatment centers, Restore doesn't use a "cookie-cutter" approach to treatment, as no two people are the same, and therefore, not one single approach to treatment that will work for every person. Our individualized approach to rehab significantly increases treatment outcomes and recovery rates.
The best rehabilitation programs for Crack addiction treatment will tailor the recovery plan to fit your unique needs by using the right combination of psychosocial and behavioral therapies. Some of the many forms of counseling and therapy programs included in Crack rehab treatment at Restore include:
Individual Therapy
Group Therapy
Family Therapy
Cognitive Behavioral Therapy
12-Step Facilitation
Dual Diagnosis Treatment
SMART Recovery
Specialized Programs
Alternative/Holistic Treatments
Alumni Programs
Through Crack addiction treatment programs at Restore Rehab Center, you can learn the tools, skills, and techniques to achieve and maintain a new, healthy life. The medical professionals and clinical staff at Restore Treatment LA are committed to helping each client break the cycle of addiction and maintain abstinence from crack use over his or her lifetime. Don't let Crack addiction have control over your life any longer. Start your recovery today by calling the admissions counselors at Restore Drug Treatment Center Today.