Get Help 24/7 – 100% Confidential
Addiction Treatment for New York Area
The entire Greater New York area, including Long Island, Queens, New Jersey and Staten Island, has fallen victim to the devastating drug and alcohol addiction epidemic. Addiction does not discriminate, with people of all ages, genders, races, religions, and socioeconomic backgrounds being caught in the crossfire of addiction. The disease of addiction is growing exponentially among New York residents. In an effort to combat the drug epidemic and help those who suffer, we have created Long Island Interventions. Our initiative provides a life-changing opportunity for those struggling with substance abuse to find quality addiction treatment in Long Island and out-of-state. We believe in drug rehabs on Long Island that use treatment methods that are evidence based and solution-focused. Our addiction recovery advocates and highly qualified rehabilitation specialists have decades of combined experience to help you or your loved ones achieve long-term sobriety.
Many people who develop a substance use disorder find it extremely challenging to discontinue drug or alcohol use without the help of professionals at a quality addiction rehab facility.
If you have contemplated seeking addiction treatment for yourself or a loved one, you will need to determine which type of treatment will be the best fit for your specific needs. Let the professionals at Long Island Interventions help you begin the recovery process and create an individualized treatment plan that we tailored to fit your unique needs. Contact us today for a free confidential assessment and begin your journey to lifelong recovery.
We guarantee 100% privacy. Your information will not be shared.
Have You Tried To Get Clean and Sober Multiple Times?
Now Is The Time To Try A Different Approach
Restore Health and Wellness Center offers a multidisciplinary clinical team, state-of-the-art substance abuse treatment programs, and tailored treatment plans to your unique needs for recovery. Our programs include:
Medical Detox

Medical Detox provided by a team of medical experts who are available 24/7. Each detox protocol combines medical supervision and safe medications, in a comfortable setting. Our goal is to ensure that our patients are provided with a safe and relaxed environment in which they will receive quality care from our specialized team of health care professionals.

Residential Treatment

Residential Treatment Programs are designed to help patients identify and work on the physical and psychological problems that resulted from their drug or alcohol addiction, while in a safe and supportive living environment. Therapies include Cognitive Behavioral Therapy, Individual & Group Therapy, Family Therapy, SMART Recovery and more.

Dual Diagnosis

At Restore Drug Rehab LA, our dual diagnosis treatment programs incorporate therapy and behavioral management techniques to address both mental illness and addiction in order to help patients achieve full and lasting recovery.
Read More About the Addiction Treatment Services Available on Long Island and Throughout the State of New York.
Drug and Alcohol Detox Programs
Drug and alcohol detox is the first stage of addiction treatment. Detoxification is a method used by people with a substance use disorder to remove the drug of choice from the user's body in order to get clean. During a drug or alcohol detox, the buildup of the drug's toxins is slowly filtered out of the body, resulting in unpleasant withdrawal symptoms. Oftentimes, patients must complete the duration of his or her detox program before moving on to the next phase of treatment. Due to the unpleasant physical withdrawal symptoms normally seen in a drug and alcohol detox, the recovery process will begin with a detoxification program to eliminate any distractions down the road in rehabilitation. Once the withdrawal symptoms have passed and detox is complete, the patient can then transition into an inpatient and/or outpatient program, where they can then focus on healing their mental and emotional health. A physical drug dependence strengthens the cycle of addiction and the hold it has over an individual. The dependent person then needs to continue taking the substance regularly throughout each day to avoid withdrawal. The objective of a clinical detoxification programs is to begin healing a person's physical state so that he or she can move forward with working on their psychological health in rehab for long-term recovery from drug addiction or alcoholism. Many detox programs for Long Island, Queens, and Staten Island residents achieve this first through stabilization, followed by detoxification.
Symptoms of Physical Addiction
A physical substance dependence is present when an individual has developed a tolerance to their drug of choice and experiences painful and unpleasant withdrawal symptoms if use of the substance is stopped abruptly. Drugs and alcohol effect people differently, and no two addictions are the same. Depending on the person's drug or choice and the severity of his or her addiction, the signs and symptoms of withdrawal can vary greatly. When someone with a drug or alcohol dependence attempts to quit using, they will experience a number of withdrawal symptoms ranging from mild to severe, some of which may include:
Anxiety
Body aches
Depression
Delirium tremens (DTs)
Diarrhea
Difficulty breathing
Dizziness
Fever
Hallucinations
Headaches
Heart attack
Insomnia
Problems with cognitive functioning
Nausea and vomiting
Seizures
Shaking or body tremors
Significant changes to pulse rate and blood pressure
Stomach aches
Stroke
Sweating
Tightness in chest
Changes in respiratory rate
The Detox Process
The detoxification process is a different experience for everyone. Attempting alcohol detox differs greatly from heroin, and must be treated as such. A clinically supervised detox for Long Island residents can minimize withdrawal symptoms to make the process more comfortable, as well as maximize success rates. If you or someone you love is looking to start the process of recovery, it is important to do your research and become aware of what to expect in detox. Below we have provided a step-by-step guide on the most commonly abused drugs and what to anticipate when entering detox.
Detox Placement for Long Island, Queens, Staten Island Residents
Finding the right detox placement for Long Island, Queens, and Staten Island residents can feel overwhelming, but our treatment specialists work diligently to simplify this process for you. By contacting us, we can properly evaluate your unique history with substance dependence and find the most suitable placement in a detox program that is appropriate for your situation. Our mission is to deliver personalized treatment plans that are tailored to fit the unique needs of each individual patient. By doing so, we ensure that you are put on the path to success and long-term recovery. With a network of trusted resources, we will find you the best alcohol and drug detox centers on Long Island and out-of-state.
Contact Us Now
Our trained addiction specialists are available around the clock to take your call. If you or someone you love is struggle with a substance use disorder and needs help, do not hesitate to contact us. We will provide a comprehensive assessment at no cost to you. Whether you are looking for a qualified drug detoxification program for yourself or a loved one, we are able to direct you to a network of valuable detox programs on Long Island and out-of-state. The detox programs we work with will have you feeling at ease and comfortable during this trying time. When necessary, we also provide medication-assisted detoxification to minimize any discomfort of physical withdrawal symptoms. With top of the line clinicians and clinical professionals who monitoring your progress, you can rest assured that you are in good hands. We service residents of the Long Island, Queens, and Staten Island area.
Guide to Inpatient Treatment
Over 12 percent of New York state residents struggle with a form of chemical dependency or substance use disorder (OASAS). The mounting drug addiction epidemic sweeping the Unite States is destroying countless families and communities, as well as claiming over half a million innocent lives each year.
Long Island Interventions
is battling our nation's epidemic at the frontline by raising awareness to the substance abuse and addiction crisis, offering credible resources, and providing valuable solutions in recovery.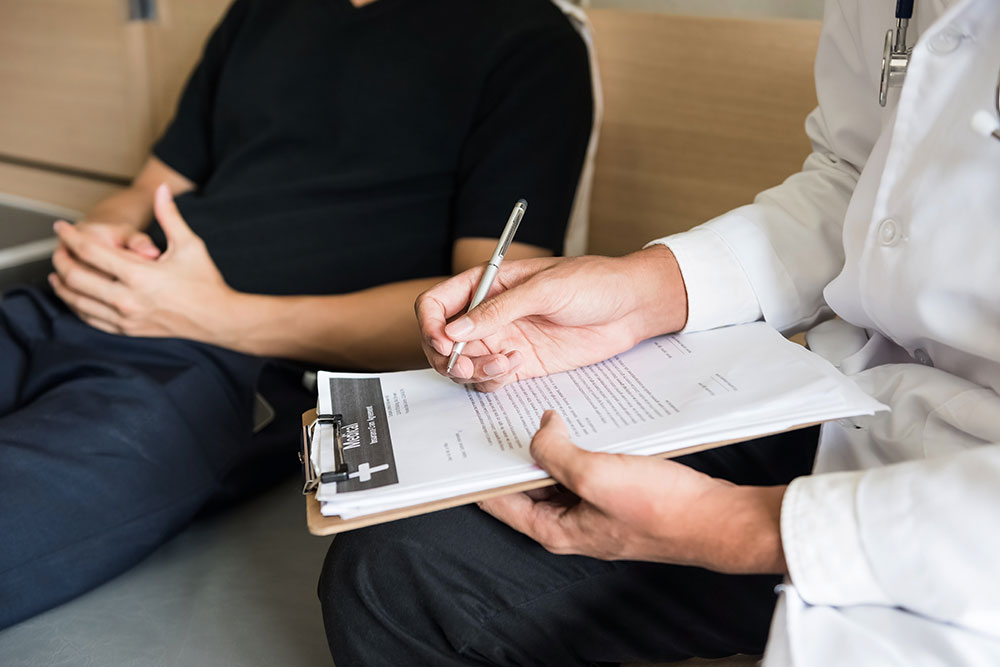 inpatient long island
What is Inpatient Rehab?
According to the latest research (NIDA) on addiction and recovery, as well as from the knowledge and experience we have gained while treating substance use disorders, residential inpatient treatment offers the best chance at achieving long-term recovery and the highest relapse prevention rates. An inpatient rehab program takes a comprehensive approach to addiction treatment using a full-continuum of care. Inpatient programs are highly structured and personalized to meet the individual needs of each client. This form of treatment offers around-the-clock care and supervision and works to heal a client's physical and emotional self through intensive counseling and therapy. An inpatient rehab program can last anywhere from 28 to 90 days, with ongoing care often utilized by many clients following this level of treatment. While in a residential program, clients are able to focus entirely on his or her recovery for the duration of treatment. With around the clock support, a multifaceted treatment approach, and guidance from licensed professionals, residential inpatient treatment offers the greatest chance of success for those seeking long-term recovery. If you are looking for an inpatient rehab program to overcome your battle with substance abuse or addiction, then you have come to the right place. Here at
Long Island Interventions
, we offer a wide range of addiction treatment and recovery resources to help you safely and effectively regain control of your life. We can refer rehab centers on Long Island and out-of-state that offer the highest commitment to recovery.
Inpatient Therapy Methods
While in the care of a licensed and accredited residential inpatient rehab, clients have access to a diverse selection of beneficial therapy methods. Some treatment centers take an alternative, holistic approach to rehabilitation, whereas others utilize more conventional and traditional treatment methods that are evidence-based. However, it is in the best interest of the client to seek out an inpatient treatment center that incorporates both methods into an individualized rehabilitation plan that tailors to his or her own unique needs. A personalized approach such as this will first asses the client's current situation and evaluate their history with substance abuse to determine a treatment plan that will best address their every need in treatment. This evaluation will help establish which therapies will be needed to help the client successfully achieve lasting recovery. The most common and effective therapy programs used in inpatient treatment often include:
Individual Counseling
Process Group Therapy
Cognitive-Behavioral Therapy
Dual Diagnosis Treatment
Holistic Addiction Treatment
Dialectical Behavioral Therapy
LGBT Addiction Treatment
Drug Rehabs for Long Island, Queens, Staten Island Residents If you or a loved one suffers from the disease of drug addiction or alcoholism, do not wait another day to reach out for help. With specialized residential treatment and a strong aftercare program, you can be successful in obtaining lasting sobriety. We make the process of finding inpatient rehab placement for Long Island residents simple and easy, so that you can focus on starting your recovery journey. We refer people to the leading providers of inpatient drug and alcohol rehabs on Long Island, Queens, Staten Island, as well as throughout the country. When you are ready to start your road to recovery, do not hesitate to pick up the phone and call us. Our addiction treatment specialists can help guide you through the process of finding treatment so that you can begin your new life.
What is an Intervention?
An addiction intervention, whether it be for drug or alcohol dependence, is a process that encourages a loved one struggling with addiction to seek substance abuse treatment. Although it can be carried out alone by family and friends, it is highly recommended that the intervention be directed by a certified addiction interventionist. These professionals specialize in mediating drug and alcohol intervention, and their goal is to help the addicted individual recognize the severity of his or her substance abuse problem and then agree to seek professional treatment. An addiction intervention is an educational process, usually organized my family, loved ones and friends and conducted face-to-face with the addicted individual.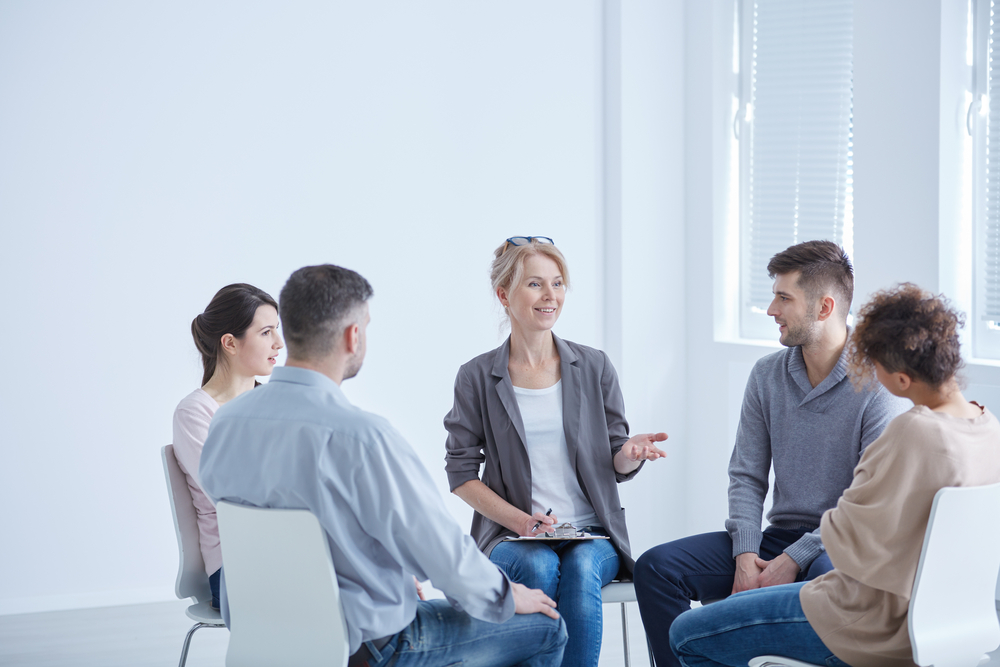 long island interventions Through our experience at
Long Island Interventions
, we know that people dependent on drugs or alcohol are often in denial about their substance use disorder and are initially opposed to entering an outpatient or inpatient treatment program. When families enlist the help of an interventionist, the addicted individual will be more inclined to enter treatment, thus saving his or her life. If you are searching for addiction interventions on Long Island, then you are in the right place. A large part of any successful addiction intervention plan focuses on providing information to the family and educating them about their loved one's substance abuse problem. It is an opportunity for family members and close friends to come together under the leadership of a certified addiction interventionist to support their addicted loved one during this trying time. It is important to understand that an intervention is not about releasing anger, frustration, or putting your loved one down. There is zero tolerance for that during this process, as it can only harm the outcome of the meeting. The point of the drug and alcohol intervention is to help your loved one recognize the damage their substance abuse has caused to themselves and those around them, and help them agree to enter a rehab program immediately.
Setting up an intervention
It is highly recommended that the families of those who struggle with substance abuse consult with an addiction specialist for information and guidance on the best course of action. This will likely involve setting up an in-depth intervention plan first, followed by further discussion about the different treatment options available, such as outpatient therapy. Here at
Long Island Interventions
, we can help you organize an effective addiction intervention that will put your loved one on the road to long-term recovery. Our addiction treatment specialists are highly trained and experience. We take into consideration the client's unique circumstances surrounding their substance abuse and their individualized needs for treatment. We suggest the most effective approach and provide guidance throughout the entire process of addiction treatment. We also help tailor a personalized follow-up plan to ensure your loved one is equipped with aftercare support following treatment.
Interventions on Long Island
Finding the right interventionist on Long Island, Queens, or Staten Island is not easy if you don't know where to look. Planning an addiction intervention is a big task that should be researched thoroughly and discussed with addiction professionals. When led by a qualified addiction specialist, an intervention followed by comprehensive substance abuse treatment is the most effective approach to achieving lifelong recovery. Though valuable in most circumstances, there are some cases where addiction intervention services are not necessary. We can assess the situation during a phone interview and deem whether an intervention is appropriate. Contact our addiction recovery specialists for a free consultation to find out the best course of action for you and your loved one.
Process Group Therapy
For many inpatient addiction treatment facilities, process group therapy is viewed as the cornerstone of effective psychotherapy. The success of
process group therapy
comes from the unique opportunity to receive multiple perspectives, support, encouragement, and feedback from other peer residents in a safe and confidential environment. Patients under the care of a drug treatment center can share amongst each other the problems they have faced and their obstacles in recovery to come up with proactive solutions together. Process group therapy is directed by a trained group facilitator or licensed therapist who guides the course of the program to ensure that patients take the most away from each session. There are several reputable drug and alcohol treatment centers that offer
process group therapy for Long Island, Queens, and Staten Island residents.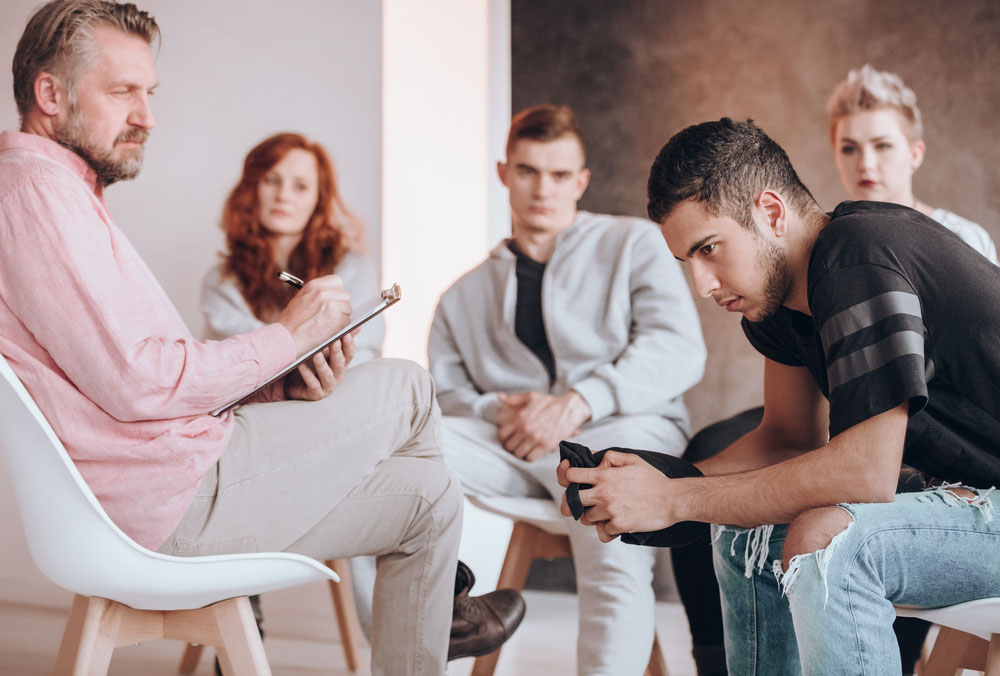 Benefits of Group Therapy
One of the notable benefits of process group therapy is the ability to learn how to interact with others without the use of drugs or alcohol. Many people with a substance use disorder struggle with underlying mental health issues, such as social anxiety, phobias, stress, and fear. Unresolved mental and/or emotional problems are often what causes an addicted person to abuse drugs or alcohol to begin with. When surrounded by people who are fighting a similar battle, individuals in recovery are better able to relate to others. Process group therapy also provides participants with a much-needed support network. These therapeutic benefits are important for long-term growth and recovery. While individual addiction counseling concentrates on a patient's own self and unique circumstance, process group therapy provides different perspectives, diverse opinions, and positive reinforcement from others. Taking part in group therapy sessions allows members to learn from each other and prepares them for life after treatment. The interactions between members of a group therapy program can lead to important revelations on the road to recovery. Regular participation in a process group helps patients feel prepared and comfortable interacting with family and loved ones in a positive, healthy manner. This allows for a smooth transition when reentering the real world and everyday life after inpatient addiction treatment. It has also shown to greatly reduce rates of relapse. Process Group Therapy for Long Island, Queens, Staten Island Residents
Long Island Interventions
is a trusted resource for finding quality addiction treatment. We have cultivated strong relationships with top-rated treatment programs that provide
process group therapy for Long Island, Queens, and Staten Island residents
. If you are seeking drug and alcohol addiction treatment services for yourself or someone you love, then you have come to the right place. We can offer you our best resources and help with placement in an evidence-based, solution-focused addiction treatment program for residents of the Greater New York area. Whether you are looking for help from an detox program, we can find the best facility for your individualized needs.
Need Help for Addiction? You Are Not Alone!
Read our Alumni Stories of Hope
"Before coming to Restore, I was in a dark and toxic place. I had already four failed attempts at rehab and none of the in-state programs work for me. I knew my next attempt at getting clean had to be drastically different, which is why I chose to travel out of state for treatment. The dedicated and caring staff at Restore designed a treatment plan specifically for me and my individualized needs. Because of my decision to leave Long Island to accept help from Restore, I was able to rediscover myself and my sobriety. I owe my life to Restore."
Morgan 29 –
New Jersey, USA
"Restore is an incredible facility that takes a refreshing approach to treating addiction. I've spent the last 7 years in and out of treatment for my heroin addiction. Nothing ever worked for me. I started to believe that I was the problem and because of that I would eventually die an addict. It wasn't until I decided to get out of my comfort zone, leave New York, and travel to Restore that I learned it was the treatment I was receiving that was insufficient and faulty, not me. Traveling out of state for access to highly qualified rehabilitation was the best decision I've ever made. Restore motivated me to get sober and taught me the skills to stay sober. I am strong in my recovery and I gained my strength at Restore. "
Anthony 31 –
New York NY, USA
"In 2016, Restore helped me get back on my feet and take back my life. Before Restore, I was a functioning addict living in New York, holding down a steady job while popping prescription pills and shooting heroin behind closed doors. When the walls started caving in and my world came crashing down, I knew it was time to make a change. The best option for me was to remove myself entirely from my environment and relocate to another state to start my recovery. I was fortunate enough to find Restore, and they welcomed me with open arms. The professional and passionate staff supported me every step of the way. I worked one on one with my counselor to get to the root cause of my addiction. Restore taught me valuable methods for avoiding triggers and managing cravings. Thanks to Restore I have three years cleans and have made great strides in my recovery."
Corinne 34 –
Long Island NY, USA
"I have had a long and grueling relationship with addiction. I have overdosed a total of four times, two of which I legally died and had to be revived. I have been to rehab more times than I can count on both hands. I wanted to get clean, but I never truly WANTED to get clean. That all changed when I came to Restore. Leaving Staten Island to seek quality, certified rehabilitation was not an easy decision, but it was the most healthy and promising one. By working my individualized treatment plan, I became more and more motivated to become the best version of myself. Restore gave me the tools to cope with life outside of treatment. I now know how to productively manage cravings and avoid my triggers. I am no longer waiting for my next relapse to appear around the corner. Even after receiving life-saving treatment from Restore, the loving and caring staff continue to support me in my recovery. "
Adam 27 –
Long Island, USA
How Much Does Drug Treatment Cost?
Insurance can cover up to 100% of rehab
We Accept Most Major Insurance Companies. We accept other forms of payment to make treatment affordable for yourself or a loved one
At Restore Drug Rehab, we accept most major insurances, and our dedicated admissions team will work directly with your insurance provider to check your eligibility, and determine the most cost-effective option for treatment. We also accept all major credit cards and personal checks as forms of payment for your rehabilitation costs. Call us today so we can discuss your financial options, and help you take the first step toward lasting sobriety.
Restore Has Helped Save Thousands of Lives
Let us Help You Find the Path to Lasting Recovery!
Are you or someone you love struggling with alcoholism or drug addiction? With our trusted and experienced team of clinical professionals and state-of-the-art rehab facility, we can help you get the quality care you need and deserve! For more information, call (516) 986-1295 or fill out our contact form one of our admissions coordinators will get in touch with you directly!
We guarantee 100% privacy. Your information will not be shared.
Confidential - Insurance Accepted
Call
Start your recovery today
Contact us today for more information on our treatment programs. Our admissions coordinators are standing by for a free insurance verification
Break

Free

from Addiction Today
Free
Restore offers personal consultations and Insurance Verifications that are 100% Free
Simple
Call or chat to speak with one of our experienced and dedicated admissions coordinators
Secure
All your information is confidential. We would never sell or share with a third party without your consent