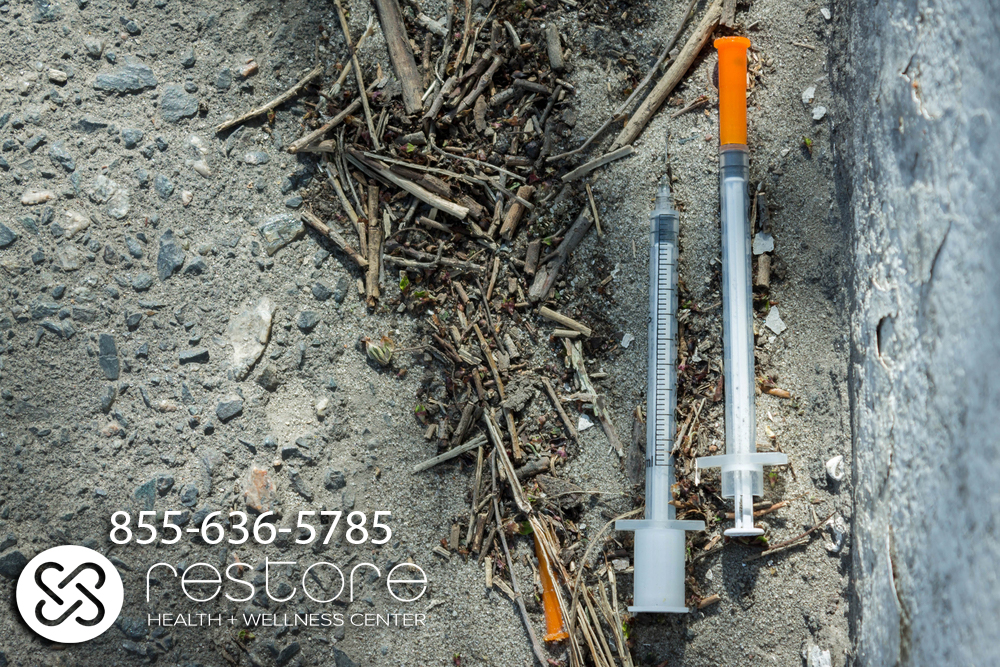 Hiding along the sidewalks, hiking trails, rivers, beaches and in the fields, playgrounds, and streets we travel and that our children play are drug syringes left behind by many heroin users. With today's heroin epidemic only expanding and strengthening its grip on America, it was just a matter of time before innocent people and the habitat in which we live would become unsuspecting victims of our nation's drug crisis.
Needles and syringes used to inject illicit drugs are turning up left and right all across the country – from big urban cities to small rural areas. The number of syringes gathered annually by public officials over the last five years sheds light on the gravity of drug addiction in America and the severity of this developing health concern.
In smaller cities, officials gather several hundred syringes from city grounds each year, with Portland, Maine accounting for 700 in 2017 thus far and projected to surpass their 2016 total of 900 significantly. For highly populated cities, however, the amount of improperly discarded needles and syringes accumulated in the length of a year reaches far beyond these numbers.
In March 2016 alone, there were approximately 2,900 needles collected in San Francisco, California – over three times the total amount for Portland in the year 2016 altogether. Though drastic, these numbers are somewhat expected when considering both the city's size and population density. What is incomprehensible though, is the dramatic increase that San Francisco detected when comparing numbers from March 2016 to March 2017. More than 13,000 syringes were found throughout San Francisco in the month of March alone; approximately a 4.5 increase from the same month of the previous year, and over 14 times greater than the 2016 total for Portland.
Discarded Drug Syringes Endangering the Public
This presents many dangers to the health and safety of the public, as anyone can easily be pricked by a discarded needle located within their surroundings. Someone may step on a needle while walking in a public park or might encounter one and pick it up for proper disposal, but then accidentally stick themselves while doing so. Children are said to be the most at risk when it comes to this rising problem.
In California, a girl, the age of six, put a discarded syringe in her mouth, confusing it for a thermometer. Though the young girl ultimately suffered no physical harm, this event brings attention to the unfortunate consequences that curious or unaware children could suffer if they were to come in contact with needles carrying blood-borne illnesses.
Confirmation on whether anyone has contracted an infection or sickness after getting poked by an abandoned needle is still unclear. The opioid epidemic is the cause, and discarded syringes becoming a danger to the public and environment is the effect. Many efforts have been and continue to be put in place to stop America's drug crisis at the source. Access to opioid addiction treatment programs is increasing exponentially across the U.S. Additionally, creating awareness about needles and syringes dumped in public locations, and having officials such as community outreach groups comb these areas for remnants of heroin use, are effective ways to help combat this problem.
What to do if You Find a Drug Syringe
Do not pick it up. By handling a discarded syringe, you could be exposing yourself to possible diseases or drugs. Many people are unaware of the correct way to dispose of needles, and therefore, it's best to have a trained specialist come to the site and collect it to ensure proper removal.
Call someone to collect it. Contact your local health department for information and they will either send someone to come pick it up or put you in contact with someone who can.
If you do it yourself. As previously stated, it is highly advised that you do not pick up needles or syringes, but if you choose to do so, it is important to minimize any hand contact. You will need a pair of sturdy gloves that cover exposed skin on your hands and arms. Use disposable tongs, a dustpan, or a shovel to gather syringes and needles, then place them in a puncture-proof container and transport them to the nearest safe disposal site. Safe Needle Disposal, a project founded by NeedyMeds, is an information resource that provides a list of disposal locations in or around your community.
If you do get stuck by a needle. It is important to remain calm in the event that this happens. Do not touch or suck the wound. You will need to head directly to your doctor, urgent care, or an emergency room. The medical staff at these locations will guide you further, administer immunizations, and run the necessary tests.
What to tell your children. Creating awareness of this problem is crucial, especially among children. Show them what a syringe looks like, and while using age-appropriate language, describe why they should never touch it. Be sure to tell them that if they see any syringes to get the nearest adult.
Get Help For Opioid Addiction
The volume of improperly disposed of needles and syringes found annually has left a staggering impression on public officials and members of the community and has revealed that drug addiction has truly engulfed the United States. If you or someone you know is suffering from heroin addiction or an opioid dependence of any kind, the treatment specialists at Restore Drug Rehab Center can help. Pick up the phone and call our admissions counselors today to learn about the highly effective programs for opioid addiction treatment available at Restore. Visit our addiction treatment center Thousand Oaks at 6918 Owensmouth Ave Canoga Park, CA 91303. 24/7 Admissions (818) 722-9019. On-Site Contact (818) 806-3914.
---